'One in ten adults in Hackney struggle to read': Meet the charity trying to change the story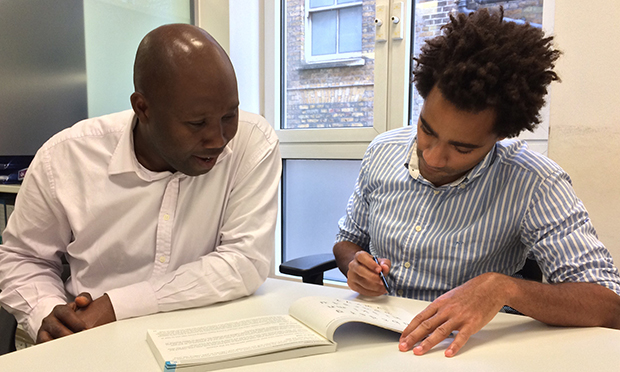 Serena Naismith, a team leader for adult literacy charity Read Easy UK, gives an example of how we can all take reading for granted.
When one of her local coordinators was organising a meet-up for the new Hackney branch last year, which has so far brought together 22 readers and reading coaches for free, one-on-one learning, they settled on what they thought would be an instantly recognisable venue – the Picturehouse cinema.
The responses from readers initially caused some puzzlement.
"Where's the Picturehouse?"
"Never heard of it."
As the charity soon found out, despite many of the readers living in the borough, venturing beyond their neighbourhood is not quite as simple when you can't decipher the sign on a bus, or navigate a train timetable – particularly in a sprawling city like London. Venues that are commonplace for many residents are not such a regular sight.
Another example is emojis, often derided as contributing to the destruction of language. The little symbols are vital for readers, for whom texting can prove difficult.
A simple thumbs-up is enough to indicate to their coach that they are all set for an upcoming lesson.
So many aspects of life involve reading that it is hard to fully comprehend what it is like to not have that skill, or even to struggle with it.
Sadly, that is what nearly 15,000 people in Hackney deal with every day – a huge 9.8 per cent of the local adult population – according to government figures found in the latest Indices of Multiple Deprivation.
That statistic makes it all the more remarkable that Read Easy Hackney is understood to be the only organisation in the borough offering free, one-on-one reading lessons to adults, with the support of local libraries and council education body Hackney Learning Trust.
Serena, who oversees two local coordinators in the borough – one of whom has just left, so find out below how to apply if you're interested – says the lack of options for people is one of the reasons the branch has had so much early success.
The group quickly matched 10 readers with volunteer coaches when it started in March 2018, and later expanded to 22 pairs. This October, despite relying solely on volunteers, it is expecting to add a further 10 pairs, which still won't be enough to satisfy a growing waiting list.
Read Easy, launched in Dorset before spreading to Ipswich, Oxford, Cambridge and Manchester, provides free courses for readers which involve a number of stages and assessments, but largely follow the reader's learning pace.
Generally, the courses last for between nine and 18 months. The only requirement is that students speak English to a decent level – the charity is focused on literacy rather than linguistics.
Serena, a former secondary school English teacher who has worked with dyslexic and autistic students, said of the programme: "When we started thinking about setting up in London, Hackney was a borough that seemed a good fit.
"There is a clear need for the scheme here, but it also has a lot going for it, such as supportive local bodies, libraries, and a good infrastructure."
But she still didn't expect it to take off so quickly.
"Initially, the amount of people who came out of the woodwork to approach us was overwhelming. But it shows how badly needed this is."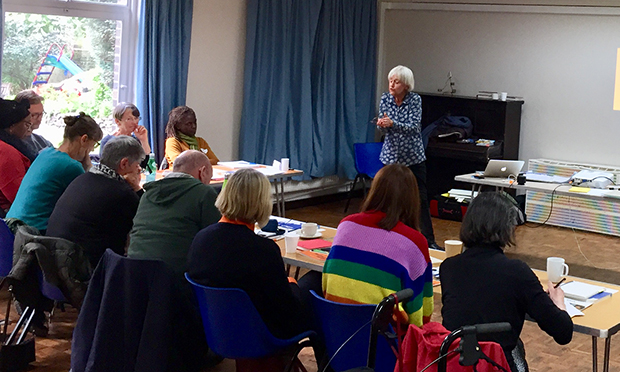 Readers follow a five-chapter, phonetics-based course called Turning Pages, created by the Shannon Trust charity. It was rolled out in prisons, receiving wide acclaim from literacy experts and academics, before being made available to other organisations to purchase.
At Read Easy Hackney, learners first take part in a interview to assess their reading level, and to find out if they have any health issues or disabilities.
Interestingly, Serena says, there's one response that crops up time and again: "I can't read – that is a disability."
Their progress is also charted through the charity's signature Life Impact Wheel, which follows improvements in less tangible areas such as sociability, self-esteem and employability.
Chris Hunn, one of the Read Easy Hackney coordinators, said: "After only six sessions, one reader is practicing every night by reading to their teenage daughter, who is very proud.
"Grinning from ear to ear, they read the whole of Fun Run – one of the books that accompanies the Turning Pages course – to me and the coach, and the anxiety they experienced before starting to learn has been replaced by confidence and joy."
Chris added: "Another reader with dyslexia, when given a yellow strip to hold over what they were reading, replied 'That's mad!'. That also shows the difference a coloured overlay can make for some people."
Jennifer (not her real name) finished the course within a year.
After she completed the last of the assessments, taken at the end of each of the five chapters when the reader feels confident enough, Read Easy gave her a book token.
She is thinking about what book to buy with it, and has invited her coach to come with her to spend it. When she does, it will be her first time walking into a bookshop.
It is also an example of how important a coach can be for their reader.
Serena says these volunteers, who commit for at least a year to ensure stability for the learners and the charity, have the freedom to share and discuss books they like with their student, on top of the course material.
Coordinator Chris said: "On being praised for the progress they had made in only a couple of months, several readers pointed to their coaches and said 'It's all down to them'."
Coaches also receive valuable teaching themselves, from literacy experts and specialist trainers.
The mix of volunteers, who have so far all been found through Volunteer Centre Hackney, is very different to other Read Easy branches in the UK.
Serena explains: "They are diverse in age and ethnicity – they really reflect what Hackney is all about.
"In rural areas, we tend to get retirees, but here we have young people who work full-time, students, all sorts really. And it is such a rewarding thing to do."
The main requirement is that a coach lives no more than 30 minutes from Hackney Library, where many of the lessons take place. It is already a big enough time commitment that Read Easy doesn't want people travelling in for an hour or more to find a lesson has been postponed.
The charity is always on the lookout for volunteers to meet the demand, and it is currently also seeking a coordinator to join Chris. The role, again on a volunteer basis, can be "full on", Serena admits, as coordinators support a group of readers and coaches in the borough and report back to Read Easy management every month, but it is vital.
Appealing for people to get in touch if they're interested in volunteering, Serena said: "In a world full of unfixable things, you can fix something by helping people learn to read."
And by doing that, you can open up the world for them.
Anyone interested in the coordinator role can contact Serena at hackney@readeasy.org.uk or by phone on 07763158099.
If you'd like to find out more about becoming a reading coach, get in touch with Chris at chris2@readeasy.org.uk or on 07737801356.
The charity also loves to hear from potential readers, who can be referred by a friend or family member, a local agency such as the Hackney Learning Trust, or self-refer.
For more information about Read Easy Hackney, head to readeasy.org.uk/groups/hackney-pioneer-group