Bridport House residents given a year to find new homes as Town Hall sues building firm over 'serious construction errors'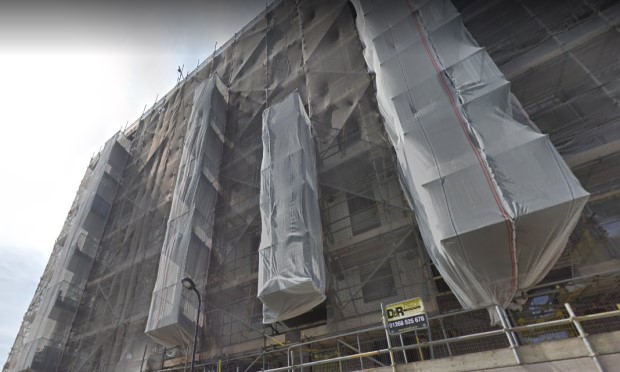 Residents of a Colville Estate council block were told tonight that they will have to leave their homes within the next 12 months as the Town Hall sues developer Willmott Partnership Homes for 'serious errors' in the building's construction.
Bridport House has suffered a litany of problems since people first moved in in 2011, from tiles falling off the roof to cracked and moving bricks, with residents told to stay off their balconies while the council undertook investigations into the building over the summer.
While there is no suggestion that the building is structurally unsound, it has now been revealed that 'combustible' insulation has been installed which is only permissible in buildings under 18 metres tall.
The Town Hall also found that cavity barriers to prevent the spread of hidden fire and smoke within the building have been installed "unsuitably", not fully filling the cavities as they are required to, with the building's brickwork, balconies and windows also found to be flawed.
The news broke at a fraught meeting this evening at Colville Community Hall, in which Hackney Mayor Philip Glanville and Director of Housing Kim Wright faced questioning as to how the defects had been missed and what the immediate future would now hold.
One resident who stormed out of the hall in anger is understood to have collapsed outside in shock. Though later seen to be fully recovered, they were visibly shaken, in a mark of the gravity of the news for the Colville community.
Another attendee told the meeting: "It's disgusting the way we've all been treated. We've all lived here for years, and you don't want to be moving out and moving back in again.
"We don't need it at our ages. Apart from death, moving is one of the most stressful things there is."
Another added: "It's difficult to ask people to live like this. We were told a year ago that this would all be over in January 2020.
"Now you're asking people to have faith again. It doesn't feel like the building will ever be made good."
Tonight's public meeting at which residents were informed of the upheaval to come marks the start of a council rehousing programme for those living in Bridport House.
It is understood that the 41 families, or around 100 people, who are affected will be put to the front of the queue for council new-builds, with the Town Hall setting up a dedicated team to support the residents, who will also have the Independent Tenant and Leaseholder Association to advocate for them.
Residents have been presented with a range of six options by the council –
Move into another council home temporarily until the work is complete
Move into another council home permanently
Move permanently into a housing association property
Move permanently to a home outside of Hackney
Buy a new home built through the council's housebuilding programme
Stay with friends and family
Those moving permanently are to be offered a one-off home loss payment of £6,300, with the potential for other financial aids from the council such as removal costs or compensation for lost single person discounts on council tax.
However, residents stressed at the meeting that minds could not be set at rest by financial compensation alone, with some confessing to having been "traumatised" by the seven-year uncertainty over their living situation.
The council has said it is "confident" that it can find new homes for all 41 Bridport families over the next 12 months.
Residents were told that while they were not being "rushed", the council would seek to keep to its timeframe for reconstruction of the block, which is expected to take two years after a search for a contractor over the coming year has been completed.
Kim Wright, group director of neighbourhoods and housing, said: "It's a situation that's the last thing we wanted to see residents in and we're really sorry that it's got to this position and isn't a position we've taken lightly by any stretch.
"The building is safe currently, that's really important. What makes it unsafe is when we remove all of the brickwork to get to the cavity wall insulation, which is not the correct type of insulation to have in a building of that height.
"This isn't an emergency, the building is safe, this is about managing things very sensitively and carefully so that people can be rehoused to the best of our ability under very, very difficult circumstances for them."
Wright has described the process of investigating the building as like "peeling an onion", as council officers found more and more things wrong with Bridport's construction as they stripped off more layers.
The director added: "The concrete panels had hairline cracks, and then the roof parapet where it met the wall had some problems, so each time something else came to light.
"I want to say how sorry I am. No-one can dress this up into something that it isn't. No-one wants to be in this situation.
"But we now need to move very supportively to help people move into alternative accommodation so that they live the lives they deserve to live, peacefully and quietly."
Wright called the decision not to keep residents informed of every stage of this summer's investigations a "judgment call", choosing instead to tell residents the full situation all at once this evening in order not to cause unneccessary alarm.
In a startling turn of events, the London Fire Brigade contacted the Citizen on 29 August, after this story was originally published, asking the newspaper to correct information put out by the council.
In a strongly worded email, a spokesperson said that "despite several asks" for the Town Hall to more accurately state LFB's position, it hasn't done so.
They added: "LFB have never said the building is safe – that isn't something we would do. What we have said is that the interim measures in place have reduced the risk to an acceptable level until the work is carried out."
The council originally said that LFB had confirmed the building is currently safe for residents as a result of the imposition of 24-hour fire warden patrols and a change in evacuation procedure.
However, on advice from the LFB, the Health and Safety Executive and independent experts, the Town Hall has decided it would be unsafe for residents to remain in the building while work to remove the insulation and replace it with the correct type takes place, saying that it would also be hugely disruptive for residents to remain in situ, and would prolong repairs.
On questioning from residents as to how the council's building control department had missed the errors, Wright responded that there was "no shying away from how we could have done a better job".
Wright underlined that building control regulations have changed since Bridport was built in the early 2000s, with the council having put in place superior 'quality assurance' processes within its teams.
It is understood that no team members from Hackney building control who were present for the Bridport construction by Willmott still work for the council.
New-builds on the council's housing supply programme are also now undertaken with a team of 80 people with an architect attached, rather than the so-called 'design-and-build' model used for Bridport which has now disastrously resulted in residents being forced to uproot their lives.
Wright argued at the meeting that the council had had a "reasonable and legitimate expectation that the organisation would build [Bridport] to complied specifications. It wouldn't be unreasonable and incorrect to assume that, as an experienced organisation was building it".
Willmott Partnership Homes now faces legal action from the council, which will claim in its suit that there are "serious errors" for which the company is liable.
The Town Hall will be demanding answers and compensation from the company, including the consequential costs of fixing the errors made in construction, as well as the money to be paid out of the council's general fund in compensation and support to residents who now face major disruption.
No representative from the developer was present at tonight's community meeting, and Willmott did not respond to repeated requests for comment.
The Town Hall will now open a procurement process for the £6m remedial works, which will involve stripping back the brickwork of Bridport and installing compliant insulation in place of the combustible polymeric currently in place, Kingspan Kooltherm K-12.
The Town Hall would not confirm what company they would be using for the works other than to make clear that Willmott would not be considered.
According to Wright, the council is not currently saying there is any cause for alarm over other projects that Willmott has undertaken in the borough.
Mayor Glanville said: "We are sorry for the failures in the construction of Bridport House, and for the huge disruption residents continue to face.
"Moving residents from homes we all hoped would be new and permanent is not an easy decision, but our first priority is their safety, and we have decided that at Bridport House, doing this work while the building remains occupied would create an unacceptable risk.
"We will do everything we can to ensure that this process is as smooth as possible, with a dedicated team and independent advice to support tenants into the best homes we have available and a package of compensation that recognises the immense upheaval to their family lives.
"We will be taking legal action to hold those responsible for these failures to account. We also should have done a better job.
"This was not an easy decision to make, but as we've demonstrated through our proactive work to remove cladding on other buildings, install thousands of new front doors and publish fire risk assessments online, we will never take any risks with fire safety."
Bridport House residents seeking support are advised to emailRehousing Manager on colin.bright@hackney.gov.uk or 020 8356 7591.
The Town Hall is running an Information Centre in the vacant cafe space on the ground floor of the Mono Tower on Penn Street, which will be open from 10am to 9pm on Thursday 29 August, and from 10am to 4pm on Friday 30 August.
Update: this article was amended at 1.30pm on 29 August 2019 following a request from the London Fire Brigade (LFB) to correct an inaccuracy in information put out by the council concerning LFB's advice as to the safety of the building.
Edit: This article was updated on Monday 2 September to specify that Willmott Partnership Homes Ltd faces legal action from the council, rather than its parent company Willmott Dixon.