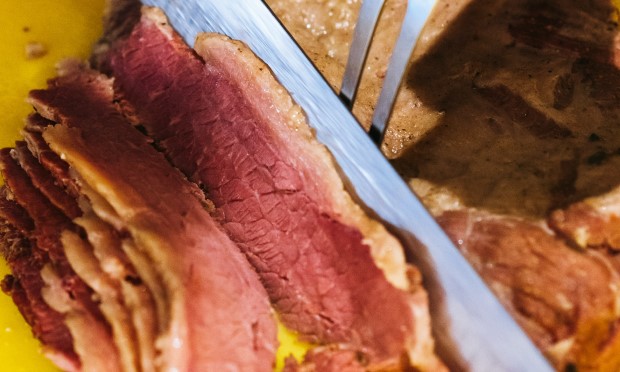 Writing tactfully about the food of Palestine seems almost comfortable compared with Russia and Ukraine and the Caucasus, but Olia Hercules and Alissa Timoshkina manage this with a deft hop, skip and jump among family and friends across vast areas of space and time and political upheaval.
They have travelled all over these troubled regions collecting recipes, ingredients, anecdotes and childhood memories.
Cooking and eating together can renew friendships and create harmony and wellbeing, but the reverse effects of famine and national and political strife, as journalist and writer Svetlana Alexievich records in Last Witnesses, her interviews with people who as children survived the horrors of the war of 1941, can be divisive and destructive.
She uses the kitchen as a metaphor for the activities of dissidents as well as a safe haven for family and friends. Hercules and Timoshkina dwell on the pleasures of convivial eating, putting their tasty and colourful recipes in the context of festive dinners and family picnics, with good humour and affection.
Ukraine is enormous; if the UK were to curl up in a foetal position it could wrap itself in this huge land mass like a security blanket, and enjoy its comfort food, described by Olia Hercules, whose cool skills as a professional cook balance a manic imagination and a quest for home cooking and special local ingredients that make her books an endless source of delight and greediness.
Mamushka, the title of her first book, is a crazy made-up word, it makes Ukranians laugh but we love the idea of sustaining home cooking.
Khingal is perhaps the ultimate comfort food, a combination of fresh pasta, crispy lamb, deeply golden fried onions and a creamy yoghurt and herb sauce. Her version of kü kü, a herb and egg mixture, has a special touch; her eggs scrambled in tomato are amazing, a broth of herb stalks with tiny meat balls is lively with dill and tarragon and chopped crispy dandelion stalks.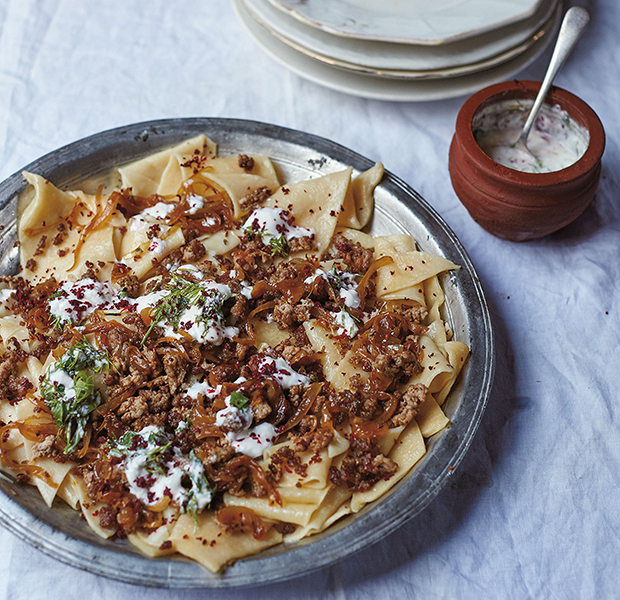 Hackney enthusiasts for fermented and pickled food will find some lovely recipes.
Siberia, where Alissa Timoshkina was brought up, is as huge as the rest of Russia, with changing landscapes and products, and a varied cuisine which has nothing to do with our ignorant ideas of wodges of monochrome stodge, banished from these books by a dazzling selection of recipes from the shocking pink of versions of borsch to the deep reddish brown hues of cakes and pastries, the delicate pink of lightly fermented vegetables, and vibrant soups and salads.
Duck roasted with a stuffing of home-made pink sauerkraut, a delicate hotpot of herbs and trout, hedgehog meatballs in a creamy mushroom sauce, okroshka, described by the author as 'a sunny meadow in a bowl' – a tangy mixture of chopped herbs and vegetables – and botvinia, a bright green cold soup of leafy green vegetables and cucumber.
The joint offering from these two brilliant cooks at the Stoke Newington Literary Festival was cheerful and witty, with bursts of merriment and an enthusiasm that inspired many of us to rush out and buy not just their books but so many of the ingredients that are sitting here in Hackney waiting to be taken home and cooked.
Many Middle Eastern stores have essential ingredients like coriander, dill, small tasty cucumbers, versions of smetana (soured cream) and curd and cream cheeses, salt and fresh goat's cheese, beetroot and the eternal cabbage of course, and many variants, from the huge solid white ones from Turkey to fresh spring greens from local farmers markets, and fresh beets, red cabbage, radishes, and items like pomegranate syrup, tahini paste, even the mysterious adjuki salt.
Each book, weighing in at a kilo or so, has about 100 recipes with accompanying text, and far far too many colour photographs – expensive, over-styled, moody and often disappointingly uninformative.
More pages of text and recipes from these clever articulate and knowledgeable cooks would have been appreciated by those of us who welcomed Claudia Roden's A Book of Middle Eastern Food in the 1960s.
There we were, floating around Camden Town in kaftans and flip-flops, avid for exotic sensations, and along came this wonderful book with evocative anecdotes of relatives and their food, of folk tales from rural Egypt, legends, history, and little vignettes of the author's childhood in Cairo, with enticing smells wafting down from the rooftop where servants prepared tastier food than that of her respectable parents, or how as a homesick art student in Paris she ate with reverence a dish of tinned 'ful medames', dried broad beans, crushed with hard-boiled egg and olive oil, perfumed with lemon and pepper.
The narrative was as gripping as the 500 and more recipes, as we read on, entranced, ignoring the few unmemorable colour photographs.
We long for access to Hercules and Timoshkina in a similar format, to sit unobtrusively on the kitchen table, like contented cats, as does Jenny Linford's un-illustrated book The Missing Ingredient, or Vicky Hayward's translation of New Art of Cookery by Juan Altamiras, to be seriously read and cooked from, without the aid of a fork-lift truck or the distraction of unwanted images.
Arrivederci Monty!
Monty's began life in 2017 under a grotty railway arch in Druid Street in Bermondsey where Mark Ogus and Owen Barratt knew just what they wanted to do, and have made a huge success of it. They combine London's East End Jewish frugal but generous comfort food with the brash lavish plentiful fare of a New York deli, using traditional skills and manic modern know-how.
It takes genius and some amazing equipment to turn the most obdurate cut of beef, brisket, into the fragrant, melting, slightly smokey, gently spiced pastrami, or smooth silky salt beef, which are Monty's staples. But when it comes to bagels there is no magic gadget, it's labour-intensive hard graft all the way, making and proving the dough, shaping it into the traditional rings, giving them a preliminary boil, then cooling and fixing all the different toppings before the final bake, to get a ring bread with a substantial heft, neither tough nor soggy.
At Hoxton Street they make everything in-house, from the lightly pickled gherkins, slightly sweet and crunchy, from the mustard, fragrant and not too hot, the subtly fermented pickles, the creamy mayo, the crisp latkes, the gently cured lox belly (a cut usually rejected as too fatty), with no room here to mention the cakes and cookies, the chicken soup with dumplings, or the awesome chopped liver.
Success in stalls at Old Spitalfields Market and the Victoria Market Halls has inspired Monty's to move from Hoxton to other outlets, of which we anxiously and greedily await more news.
See you soon, Monty!