The Citizen Gardener: 'It's time for the untidy to have a go'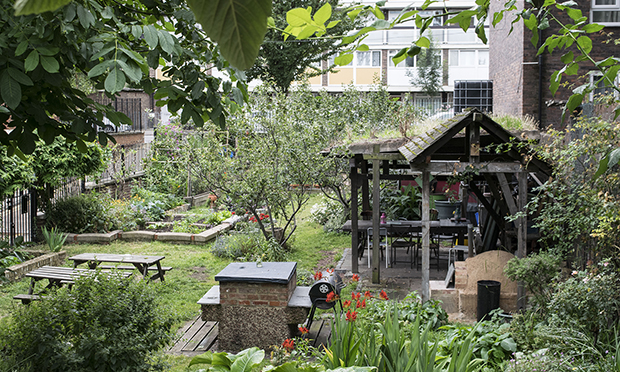 Growing a union
A year ago, when we were under threat of development, a few gardens got together to unite under a manifesto for green spaces.
The general idea was that we needed to protect existing spaces, have a voice, get the environment further up the political agenda (currently one sentence on p28 out of 36 on the council's profile of the borough – hackney.gov.uk/statistics-evidence-plans-and-strategies) and make what gardens do (and where they are) more visible so that more people can gain the benefits they provide. 
Twelve months on and we are founding a union (or network) of community growing spaces (if anyone has a good idea for a name, let us know).
We'll have a launch event at the Dalston Curve Garden in September if you want to find out more and sign up.
The network will be hosted digitally by Capital Growth but be a dedicated Hackney site.
With this Union, as well as sharing equipment, training, skills and events, we hope to be able to talk to developers and the council and lobby for recognition of these spaces.
In the meantime, as part of the manifesto principle to promote the benefits of community growing spaces we are arranging a number of walks to and between these often hidden green spaces.
The first is on 4 August (meet at the Lido at 2pm), then 17 and 18 August and 1 and 15 September, ranging all over the borough.
Each walk is free and will include cake! Search for Green Spaces Trail on Billetto.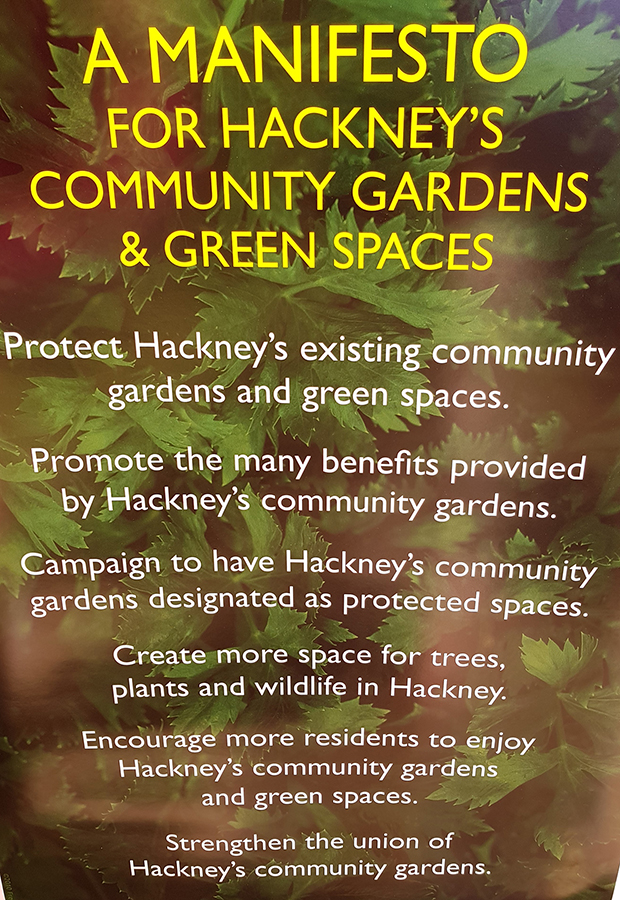 Forest bathing
Twenty years ago I went round knocking on doors trying to get money and support to plant some trees in my street, which was bare of any greenery, for the new millennium.
Most people were passively accepting of the idea but one neighbour said, "There is enough street furniture in the road already."
He was worried about getting in and out of his car. We planted the trees anyway.
As I walked down the road last week, finding precious shade in 37 degree heat (trees can lower the temperature by about 5 degrees), I wondered whether it still bothered him that the trees were in his way. And whether he walked on the sunny side of the street.
It's this culture – that nature is an impediment – that we need to change if change is to happen.
I work with a lot of children who are taught that soil is 'dirt' and that nature is something to be scared of – or certainly avoided.
That was true in the past. Nature was hostile; it attacked, ate, lived on, froze or made you ill.
We have moved on, thanks to technology, soap and clothes, but some attitudes haven't, like the compulsion to tidy our streets and gardens – to mow, weed, chop back, control or simply kill.
This is, I think, a response to that ancient need to keep nature at bay and does nature few favours, which can look after itself if it's given space to grow and be undisturbed.
I think the tidy people have had their way for too long.
Look where it's got us – the decline of insects, birds and mammals.
It's time for the untidy to have a go and allow messy old nature to have its way.
I realise this is a big cultural change which will take time so, for now, perhaps we can bang on about how wonderful trees are.
Apart from keeping us cooler, absorbing carbon dioxide and air pollution, trees support wildlife with food and habitat and just make us feel better.
It's like we become more ourselves when we're near trees rather than the anxious, animals we have become.
The Woodland Trust is now promoting forest bathing – shinrin-yoku – which is basically spending time near trees to improve our mood. And it works – especially for children.
Being in nature has been shown to relieve stress and improve concentration (more info can be found at psychologytoday.com/us/blog/the-athletes-way/201903/8-eye-opening-ways-kids-benefit-experiences-nature). 
But if you still don't actually want to be near a tree but approve of them from afar you can just get drunk and support nature by buying Sapling Vodka, which will plant a tree for every bottle they produce – saplingspirits.com.
Kate Poland is an award-winning community gardener. She was chosen to be the UK's first ever postcode gardener in E5 as part of Friends of the Earth's 10xGreener project. For more information, head to cordwainersgrow.org.uk and friendsoftheearth.uk