Community mourns the death of homeless man in Stoke Newington bus stop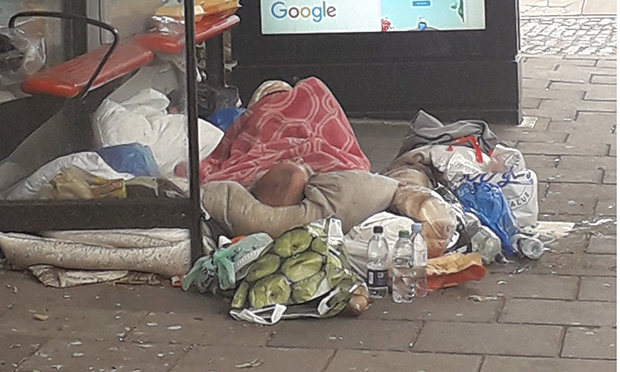 Hackney residents were expressing their grief and anger today after a homeless man, who has not yet been formally identified, was found dead in the Stoke Newington bus stop where he had been living for months.
The man's death, first reported by the Metro, was met on the evening of 30 July with calls to ensure that it is not repeated and questions from residents over how it was allowed to happen.
Hackney Mayor Philip Glanville (Lab & Co-op) has announced a review into the death in order to provide reassurance that work to support him by all agencies was carried out, while a crowdfunder has been set up for a memorial in his name.
Ngozi Fulani, who founded and runs Sistah Space, a domestic abuse helpline supporting women and girls of African heritage, and works near the bus stop near Princess May Road, saw him most days.
In an interview with the Citizen, Fulani said: "I didn't think it would hit me this hard. I knew a few weeks ago that if they didn't do something soon, he would die.
"Everybody's feeling it. He died like any creature on the road, as an elder. All of us should hang our heads in shame, me included. I'm thinking to myself, 'I should have called the police every ten minutes'.
"I put it out on Twitter some weeks ago, and they could see for themselves that he had stopped getting up. He was lying in his own filth for at least four or five weeks, and got weaker and weaker."
The man, who has been named as either Mustafa or Musa on social media, was described as lying "in the same position" during the recent heatwave, and that he was attended by outreach workers after having been given water by a member of the public.
However, the next day Fulani saw that he had returned to the bus stop.
It is understood that the man's health deterioriated over the past few months as he slowly brought his belongings, which according to Fulani were at first kept quite "orderly,  to the bus shelter, which became his final home over the last three or four weeks.
Other Hackney residents voiced their upset at the incident throughout the evening, with local parent governor Sulekha Hassan saying on social media: "I welcome the review and whilst council will no doubt get flack, what's the alternative? Criminalise him? Section him against his will? No-one should pretend that there are easy answers.
"In 2019, people should not be dying at bus stops. RIP to the old man outside Princess May Road bus stop."
Mayor Glanville said: "Everyone at the council is deeply saddened to hear of the death of this man and we express our deepest condolences to his family and friends at this difficult time. No one should die on the streets of Hackney in these circumstances.
"I know this situation and the tragic circumstances surrounding his death have had a significant impact on the wider community and also all those who sought to support him."
Glanville added that the Town Hall's rough sleeping outreach team were "deeply upset" at the man's death.
He had been made an offer of accommodation earlier in the summer, according to the council, though the Mayor said that "we hadn't been able to convince him to take up the services on offer and we were continuing to work with him to explore all options".
The Mayor added: "Supporting rough sleepers, many of whom may be dealing with broader, complex needs, is not just about providing offers of support.
"It can take time to build up trust to support people to engage and consent to accessing the support they need.
"Incidents such as this increase our resolve to continue to work to do all we can to support rough sleepers in the round."
Fulani estimated his age as between 50 or 60, and said he was from the Turkish-Kurdish community, whose members she added would bring him cigarettes and take care of him.
However, by the time Fulani had got to know him, she found him to be alcohol-dependent and "not sociable".
She said: "He laid down underneath the bench and he had his things all spread out, and he took up the whole space. It was not just a question of the man being homeless, he was very ill.
"Stoke Newington is not a poor area, and it didn't have to happen. I put an SOS out six days ago, as this man is not functioning. When services came to this man over the last few weeks, he was laying on the ground.
"This man could not make decisions for himself or help himself. He had character. He was a bit mischievous, and seemed to be all right at first about being outside, but when did it change from that to him not being able to make that decision? From what I can see, that stopped being the case weeks ago.
"His name was Mustafa, and he was somebody. I didn't know how much he touched my life until today."
You can donate to the crowdfunder here.
EDIT: This article was updated at 12:52 on 1 August, reflecting the fact that the deceased man has not yet been formally identified.