Actor Tracy Ann Oberman 'truly moved' by visit to Jewish primary in Hackney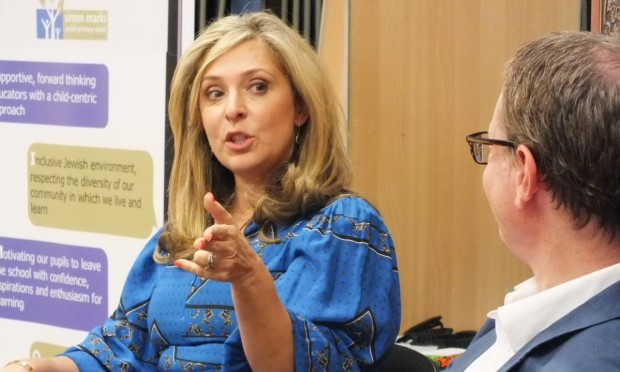 Actor and writer Tracy Ann Oberman spoke of her fight against antisemitism in a conversation with journalist Jonathan Freedland at Simon Marks Jewish Primary School in Hackney earlier this month.
Oberman, well known for roles in EastEnders and Toast of London, described the school as a "model" for "bridging communities" after learning about its close relationship with the nearby Muslim primary.
The evening of discussion was set up by Simon Marks to raise money for its Jewish education programme, which receives no government funding.
Oberman hit headlines recently when her interview on the BBC's Victoria Derbyshire show went viral.
"I sat in the car and cried, because I couldn't believe what people were sending me"

Actor and writer @TracyAnnO describes the anti-Semitic abuse she has been sent by people "under the guise of being Labour and Jeremy Corbyn supporters"https://t.co/xg1j74aKmO pic.twitter.com/mGsi1QNbtE

— Victoria Derbyshire (@VictoriaLIVE) July 15, 2019
In it, she talked about being the target of antisemitic abuse for speaking out about the Labour Party's failure to properly tackle the issue.
She revealed she had been reduced to crying in her car because of what she'd been sent by people "under the guise of being Labour and Jeremy Corbyn supporters".
The actor also imparted stories from her life and career for the audience at Simon Marks, and later revealed on Twitter that she was "truly moved" after learning about the school and its Muslim counterpart "living, praying and coexisting peacefully with respect, and sharing resources".
Simon Marks headteacher Gulcan Metin said: "Tracy Ann is an inspirational speaker and we were really fortunate and grateful that she gave her time to support raising funds for our school."
I spent the evening at a Q&A with the mighty @Freedland #SimonMarksSchool perfectly situated in Hackney next door to the local Muslim primary school. Two communities living, praying and coexisting peacefully with respect and sharing resources, truly moved. pic.twitter.com/dQsqX40BDj

— Tracy Ann Oberman (@TracyAnnO) July 11, 2019
On the event, a school spokesperson said: "Tracy Ann Oberman has become an activist fighting against antisemitism and we thought she would be of great interest to the audience. 
"There was a wonderful atmosphere in the room. The audience was buzzing afterwards, and it sparked much discussion at such a prime time following the Panorama programme the night before that tackled antisemitism within the Labour Party."
All the money raised from the sell-out evening will go towards the school's Jewish education programme.
Recent results put Simon Marks in the top three per cent of UK primary schools, after it notched up record numbers in a range of subjects, including a 100 per cent average in spelling, grammar and punctuation.
The school was also commended by the Mayor of London this month after winning a gold in the Healthy Schools Awards.