Victoria councillor raises singing voice in support of Hackney Community Law Centre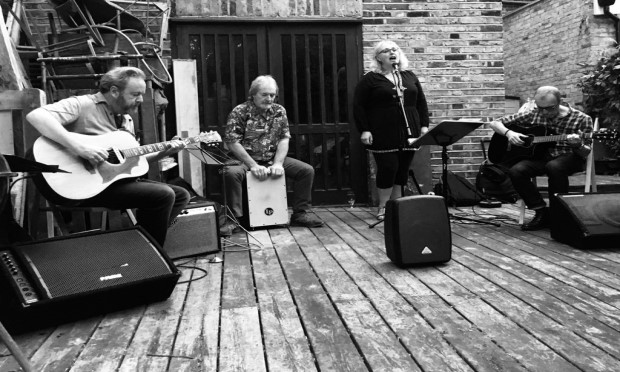 A Victoria ward councillor, backed up by band the Hackney CABs, will take the stage tonight in support of Hackney Community Law Centre (HCLC), which controversially saw a recent sharp drop in its funding by the Town Hall of 45 per cent.
The musicians are to perform a mixture of songs by The Cure, The Specials and Tracey Chapman to a sold-out crowd at Epping Hall on Friday 19 July.
Cllr Penny Wrout, who has never sung in public before and will be performing on a fractured ankle, says she was inspired to raise awareness of HCLC's cause partly because of Hackney Council's decision to slash its grant from £203,000 to £115,000.
Cllr Wrout said: "In a moment of madness I accepted the suggestion from local friends that we form a band and, starting from scratch, get up to speed for our first gig in just eight weeks.
"We'll be supporting comedian and performance poet Atilla the Stockbroker in a fundraiser for Citizens Advice Epping Forest – hence our name, The Hackney CABs.
"En route, we've also been trying to raise some sponsorship funds for the HCLC – we're halfway to our thousand-pound target."
A spokesperson for HCLC said in response to the news: "This is a tremendous effort by a councillor to help the Law Centre.
"It demonstrates that councillors are very supportive of the Law Centre and its work.
"We all hope Penny will give us a song at the Town Hall very soon!"
It is understood that the decision to slash the 40-year-old centre's grant from £203,000 to £115,000 was met by disquiet from a number of backbench councillors in Hackney.
The centre faces the prospect of considering cuts to its immigration department and reducing the number of staff available for housing advice, and potentially even closure, having already seen a drop in its council funding of 56 per cent since October 2017.
The Town Hall said at the time that the most recent decision was made as part of a new 'systems thinking' review initiated in 2016 aimed at plugging gaps in the provision of advice across the borough, resulting in a smaller slice of the funding round for the centre.
Cllr Caroline Selman (Lab, Woodberry Down), cabinet member for the voluntary sector, said in April: "While grant funding has been allocated to a greater number of providers than in previous years, the fact that HCLC continues to receive the second highest grant allocation of any individual provider reflects their valued role within the advice landscape in Hackney.

"However, we also recognise the challenging financial environment in which organisations are operating which is why as part of the original cabinet decision we identified additional funding that could be used for transitional support where appropriate.
"We have since been listening to the concerns raised by HCLC about the impact on their financial position and are continuing to meet with them to ensure there are no unintended impacts on their ability to continue in their role as a valued part of the advice landscape in Hackney."
The uncertain outlook for HCLC was raised in City Hall in May by Green party leader Sian Berry, prompting London Mayor Sadiq Khan to offer the Centre advice and support from his own community engagement division.
Organisations like the law centre face difficult circumstances nationally due to legal aid cuts, with a recent BBC investigation that up to a million people live in areas without legal aid provision for housing.
Donations can be made here, and will be split two ways between HCLC and Epping Forest Citizens' Advice Bureau.