Stage set for £700k overhaul of Stoke Newington School's theatre and drama studio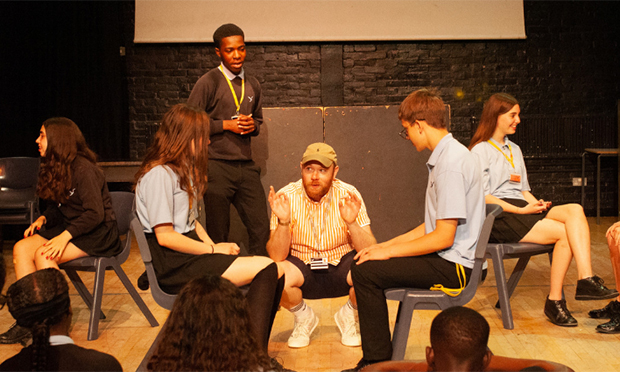 Stoke Newington School's theatre and drama facilities will get a £700,000 refurbishment over the summer holidays thanks to funding from Hackney Council.
Industry-standard lighting and audio visual systems will be brought in, along with mirrors in the drama studio, improved ventilation, and a full redecoration.
Work will take place over the summer holidays and is expected to be completed in October.
The school's head of drama Liam Stewart said: "These renovations will have an impact on the whole school, as the theatre is used by every year group and by lots of different subjects, but it's also used by the wider community."
He added: "There's been a recent shift in GCSE and A-level curriculum towards more technical aspects, and I think the refurb will allow students to be able to work with professional quality equipment and technology, so I think that's really exciting and that's something that we're all looking forward to."
Once the new facilities are in place, staff are planning to launch a weekly club to allow theatre tech enthusiasts to get hands-on experience with the lighting desk, learn how to manipulate and record sounds, and to use professional digital audio software.
The funding for the overhaul comes from the Town Hall's Investing in Hackney's Schools programme, which will see over £20 million pumped into education facilities across the borough over the next two years.
Major works are already taking place at Benthal Primary School, including vital roof repairs, new toilets and upgraded playgrounds.
Building repairs are also happening at Shoreditch Park, London Fields, Randal Cremer, Queensbridge and Sebright primary schools.
Work will also begin at Harrington Hill, Jubilee and Tyssen primary schools in the next couple of weeks.
Deputy Mayor of Hackney Cllr Anntoinette Bramble said: "Our older school buildings are an important part of our local heritage, and loved by many of our residents, but require significant maintenance.
"The government has underfunded this work for many years – in recent years we've spent an additional £6m of our own funding to make sure these buildings are kept in good condition, but a National Audit Office report identified a need for £7bn of investment across the country to bring school buildings up to a good standard.
"With ongoing government cuts continuing to affect local authorities, this is a real challenge without investment from the Department for Education. 
"I'm proud we've taken action to ensure repairs and improvement work is undertaken, and that so many schools are already benefiting from our Investing in Hackney's Schools programme."