Town Hall spends thousands in seven-year quest to cut down and poison tenant's trees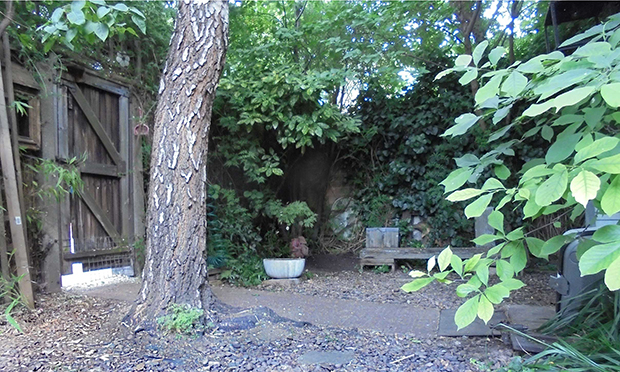 Hackney Council has been embroiled in a conflict with one of its tenants for seven years in an effort to cut down the trees in his garden, it has emerged.
In a letter to Homerton resident John Allan, the Town Hall threaten to not only remove the trees from his garden, but also to "poison the stumps" so they do not grow back.
It is understood the council has spent in excess of £7,000 in legal costs in a bid to compel Mr Allan to cut back his trees to a tenancy agreement-mandated height of 2m, after neighbours complained that his garden was overgrown.
Mr Allan said: "On an estate where there are no street trees, when a tenant stands up to do something about, Hackney use the full force of the law to intimidate and destroy the one line of defence we have, trees and vegetation.
"What became clear to me from this court case, is that there is still a class system in Hackney and tenants are third class citizens with no rights.
"All you need is one leaseholder to complain about growing a tree, climbers or an eco-garden and the borough falls on top of you like a ton of bricks in an attempt to purge and even poison your garden with chemicals."
The Town Hall has confirmed that poisoning the stumps of the trees is not general policy, but did not explain why it has been deemed necessary in Mr Allan's case.
The council is further threatening the removal of "all shrubs and other vegetation" from the garden following neighbours' complaints, as well as "all additional debris and clutter", of which the Homerton resident claims to have no knowledge.
Mr Allan's battle with the council over his garden escalated to the courts after Town Hall officers complained of being unable to gain access to his property to carry out their work.
It is understood that, with the Town Hall having sought an injunction in which a judge ruled in its favour, Mr Allan is now faced with the removal of his trees in the coming weeks.
Mr Allan added: "For the money they have spent trying to cut down my trees and climbers, they could have planted 7 trees in the street.
"There was never a moment when they offered to compromise or consider a 'like for like' replacement I would have agreed to.
"The only way Hackney can hope to come anywhere near meeting its targets is to mobilise every available space, including social housing tenants' gardens, enthusiasm and resources.
"Stop cutting the heads of us who stick our heads up like 'tall poppies' to do something about it."

A spokesperson for Hackney Council said: "We have been in repeated discussions with Mr Allan for seven years in an attempt to resolve issues with overgrown trees and shrubs in his garden.
"The garden's foliage has been affecting the living conditions of his neighbours, including hanging into the balcony of the neighbouring property and blocking light, leading to repeated complaints from those living there.
"Mr Allan has continuously refused to adhere to his tenancy terms and conditions, which stipulates that his garden should be well-maintained and that the trees and shrubs should not exceed two metres in height.
"We have sent out numerous letters to Mr Allan since 2012, requesting him to tend to his garden. Mr Allan has failed to stick to numerous appointments with the council over the years to inspect the garden and has denied us access into his garden.
"We offered to trim the garden as a one-off due to the negative impact it was causing to his neighbours, prior to the matter going to court. However, Mr Allan, failed to engage with us. We had no alternative but to take court action.
"The trees are unfortunately not suitable for transplanting because the roots would be irreparably damaged in the process. The trees are being removed as a last resort and permanent solution."