'The Future is Ours': Young Extinction Rebels call for change at East London Uprising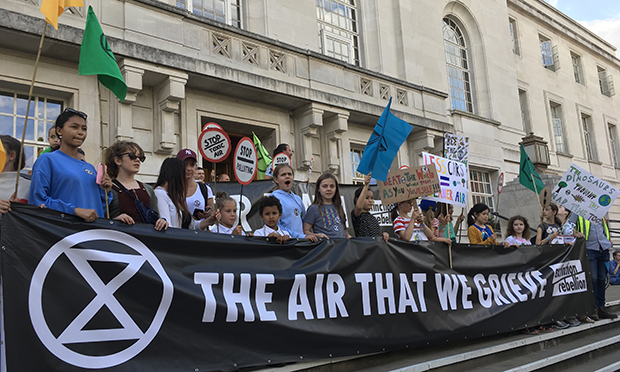 Hundreds of young Extinction Rebels took over Hackney Town Hall Square on Friday evening, kicking off a weekend peaceful Uprising across East London with a hub of creative protest converging on London Fields.
The Extinction Rebellion (XR) children's assembly held on the Town Hall steps saw the young protestors share their concerns and ideas with Hackney Mayor Philip Glanville and Tower Hamlets Mayor John Biggs at the culmination of a march called, 'The Air We Grieve.'
Ideas mooted at the event included more financial incentives to encourage cycling, more trees, plants and bike racks to be seen across Hackney, and for plastic to be turned into art.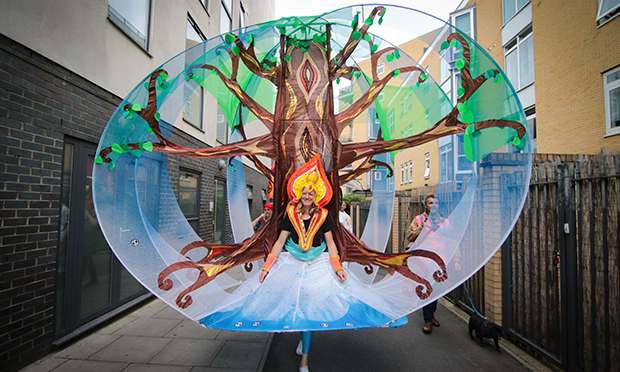 Alfie Castel-O'Leary, 14, came from Havering to attend the event, where councillors recently voted against declaring a climate emergency in a move characterised by Mayor Glanville as "disappointing."
Alfie said: "I'm taking part in the Children's Assembly to ensure that children of all ages can have a say in their future.
"I am worried for my 5-year-old brother as he knows what's happening and he will not be listened to by politicians."
Julia Warwick, mother of two and member of XR Hackney, added: "It is encouraging to see that Mayor Glanville and Cllr Jon Burke [cabinet member for energy, waste, transport & public realm] take this issue as seriously as we do. Now we need to see concrete action from them.
"Words of support are not enough. No more delays. We need broad and far reaching plans to reduce traffic, make our borough a better place to walk and cycle and to reduce air pollution for all residents."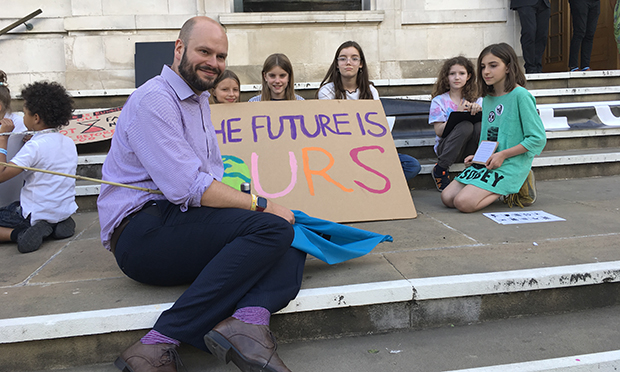 Mayor Glanville, whose administration put across its "broad support" for the Rebels whilst sounding a cautionary note over public safety, property damage and drug use ahead of the London Fields protest, sat with one group at the assembly, whose banner read 'The Future is Ours,' to listen to their ideas.
The borough leader said: "All the young people here are making history, and the future is theirs. The thing that's really powerful about today is that there are people here from across East London – the march from Tower Hamlets.
"As individuals we can all do an incredible amount, but we've also got to work together at a community, borough and East London-level around tackling these issues.
"My group was talking about the level of individual change, so thinking about flying less, switching to electric cars and reducing the use of plastic, but they also wanted to be directly involved in green infrastructure, more plants and trees and green walls at their schools.
"What I heard was that they don't just want the school or the council doing that, they want a chance to take part in that work. They want us to do something, but they want to be involved too."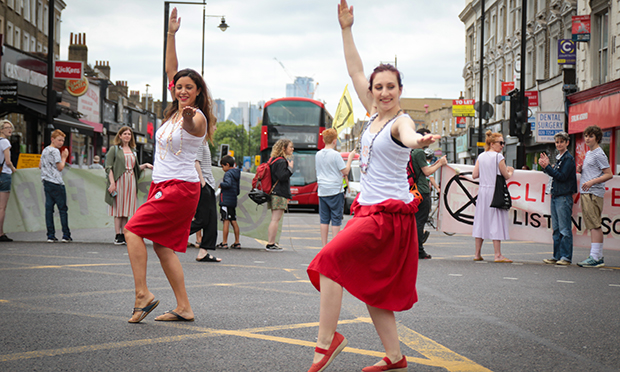 Glanville added that the Town Hall are still committed to providing 1,000 trees, but that going forward these would not be directly delivered by the council, but in co-operation with estate residents and community groups such as Tree Musketeers and Trees for Cities, in the hope that the target of 1,000 can be exceeded.
The Mayor also revealed that further citizens' assemblies will be planned in Hackney including one linked to Sustainability Day, in what is understood to be part of a scheme by which there will be "at least one annual occasion" where the community can hold the council to account, particularly on what action the Town Hall puts behind its declaration of a climate emergency.
Saturday saw blockades of busy East London intersections, with music and dance performances by traditional Tahitian dance troupe Ori London, who helped highlight the urgent risk of sea-level rise to island nations.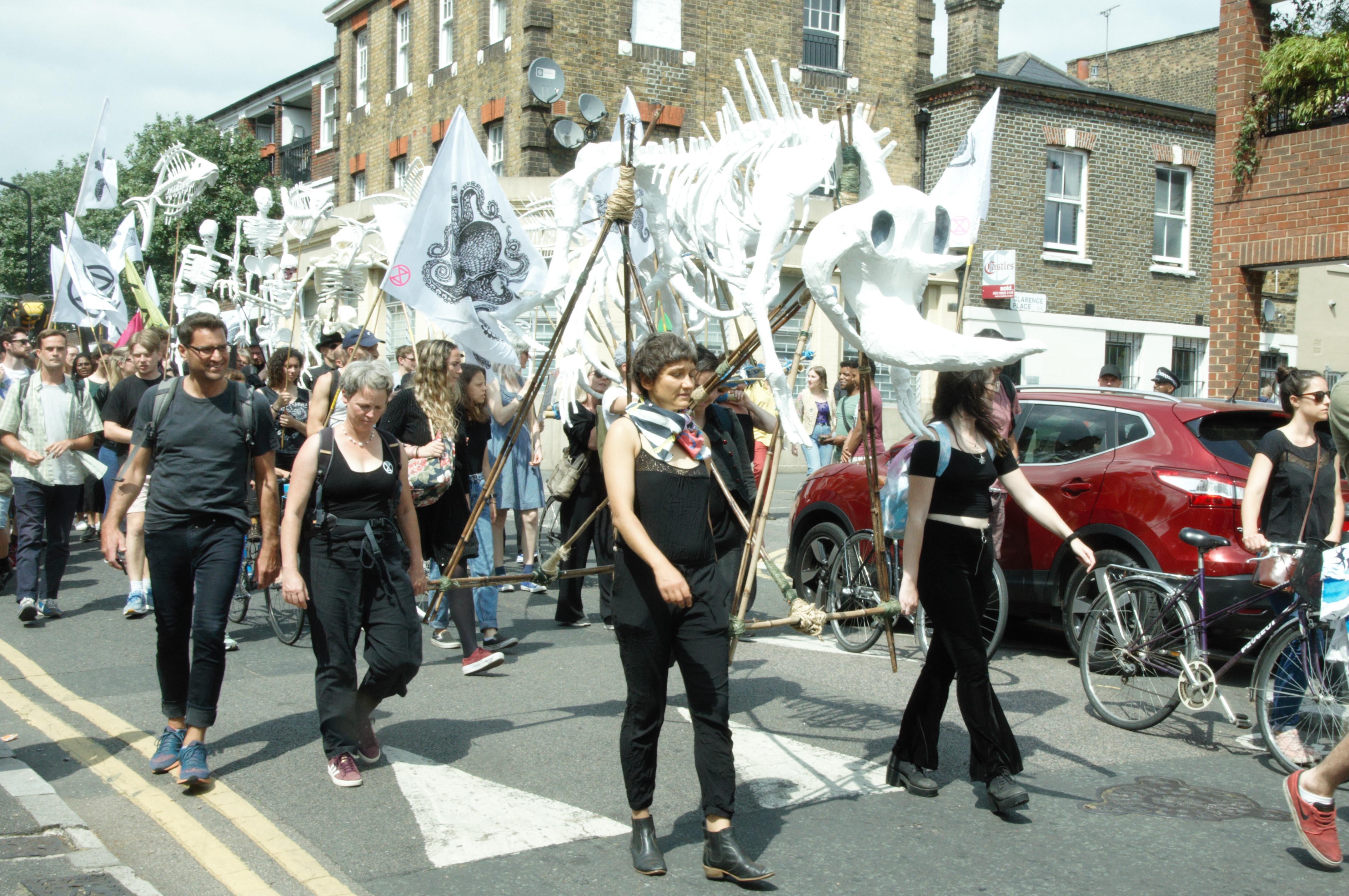 Later on Saturday, hundreds of cyclists swarmed from Old Street Roundabout through Shoreditch and Hoxton, followed a New Orleans-style funerary procession, marching from Hackney Downs to London fields down Mare Street to the beat of a jazz band.
The London Fields protests saw a range of different activities, including pop-up samba performances, a wellbeing tent, a 'Boycott Fashion' photo booth, and free vegan food.
The Uprising continued through to Sunday, which started with a morning rave and saw further assemblies conducted outside the Town Hall.
XR has further plans for Summer Uprisings across the country, with London, Cardiff, Leeds, Bristol and Glasgow on Monday as part of the protests.
Monika Nielsen of XR Hackney said: "We're really happy with the turnout at all the workshops and talks throughout the weekend.
"It just goes to show how many people really are concerned about their futures and want to use this as a chance to connect and get involved."
Ameneh Mahloudji of XR Tower Hamlets added: "We are delighted to have three elected mayors of London boroughs join the rebellion this weekend.
"We welcome all local authorities in London to join our next international rebellion to put pressure on our government to tell the truth and take action to prevent a climate crisis and ecological breakdown that will affect all London residents and people around the world."