Over 13,500 cigarettes seized in raid on Hoxton shop amid council crackdown on illegal tobacco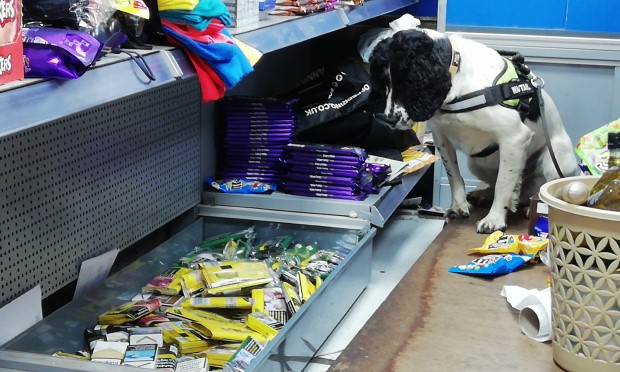 Hackney Council's trading standards team confiscated 13,700 cigarettes in a raid on a Hoxton shop last month as part of a clampdown on illegal tobacco. 

Officers made the discovery with the help of sniffer dog Pippa, who found the cigarettes alongside 129 illegal packets of loose tobacco stashed away in a sink unit and under the shop's chocolate bar stand. 

The owner will now face prosecution for the sale of tobacco. 

Illegal tobacco has all the harmful properties of legal tobacco, but is also completely unregulated, and often sold much cheaper.
The council says many smokers report that being able to buy it cheaply makes it harder for them to quit. 

It can also make it easier for youngsters get hooked from an early age, damaging their health and potentially bringing them into contact with criminals. 

As part of its clampdown, the council is to host an illegal tobacco roadshow from 10am until 4pm on Tuesday 16 July at Tesco, Morning Lane, where residents can find out more about illegal tobacco, why it's a problem and how to report premises that sell it.  

Trading standards and Public Health officers are surveying members of the public to find out how much people know about the illegal trade and their attitudes towards it.
Town Hall community safety chief Cllr Caroline Selman said: "Illegal tobacco is heavily linked with organised crime and harms businesses who are trading legally.
"We're working hard to crack down on businesses selling illegal tobacco who will face action if they are caught."

Cllr Feryal Clark, the borough's deputy mayor and cabinet member for health, added: "The sale of illegal tobacco has a huge impact on people's health, making it easier for children to get hooked on tobacco and harder for people to quit.
"The roadshow is a great opportunity to highlight the dangers of illegal tobacco, and for people to get advice on how to stop smoking."
For more information, head to news.hackney.gov.uk/illegaltobacco
Anyone who suspects a business of selling illegal tobacco can email trading.standards@hackney.gov.uk, call the Citizens Advice Consumer Helpline on 03454 04 05 06 or report it online at londontradingstandards.org.uk/report-consumer-crime