Study VFX and Game Art Animation at SAE London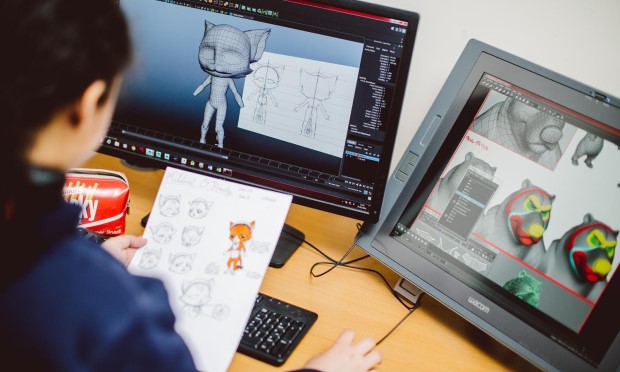 SAE London delivers industry-focused, two-year creative media degrees and one-year diplomas in Animation, Audio, Film, Games Programming, Music Business and Web Development.
The two campus buildings are SAE House and Bankstock Studios, located in Haggerston and just a short walk apart.
SAE is one of the world's leading creative media institutions, building on a proud tradition of exceptional post-secondary education spanning 54 campuses in 28 countries.
Here are just some of the reasons why you should apply to study Visual Effects and Animation or Game Art and Animation at SAE London:
1. Award-winning alumni
SAE alumnus Billy Butler is a Lead Modeler at Framestore. He has worked on movies such as Changeling, Legend of the Guardian and Suckerpunch.
Billy was part of the team that won a BAFTA and an Academy Award for the film Gravity. He also worked on the popular Beauty and the Beast remake.
2. Industry engagement with SAE Extra Masterclasses
Francesca Pesce is a Post Supervisor at multi BAFTA-winning production studio, Blue-Zoo Animation.
She has visited SAE in the past to deliver a masterclass, detailing her career and workflow, the software she uses and the everyday problems she faces in the studio. Francesca gave SAE students lots of helpful advice about applying for a job in animation.
In another SAE Extra masterclass, VFX Supervisor and Creative Director Zlaten del Castillo went behind the scenes of some of the projects produced at UNIT9 in the last few years in which VFX played an important role.
He also spoke about VR from the first days of 360 video, collaborating with engineers to solve post issues, as well as how to face innovation projects that don't have an established pipeline.
Our students have also learnt from Jay Roxas, an Australian Animator who has worked at some of the biggest VFX and TV Studios in the world such as Industrial Light & Magic, Double Negative and DHX.
Some of the epic titles Jay has worked on include Jurassic World, Captain America: Civil War, Star Wars: The Last Jedi and Wonderwoman.
Jay visited SAE London students last year to talk about his journey into the field of Animation.
Robert Ramsey also came for an SAE Extra masterclass, where he demonstrated some of the best tools to animate game characters and props. He covered sculpting a character in Zbrush from concept or reference, retopology, UV and texturing using 3D Coat and rigging, animating using 3dsMax and exporting for Unity.
3. Creative student work
Oliver Price is a first year VFX and Animation student who is building a scary looking character using industry-level 3D modelling software, Maya, as part of a group project.
Oliver said: "The character is a four-metre-tall insect like monster with lots of scary pointy bits and sharp teeth.
"The inspiration for the character (whom we have affectionately named "Keith") was the large spidery characters in games like Skyrim, and movies such as Lord of the Rings and Harry Potter."
4. Cross-discipline collaboration
This year, we sent a mix of Game Art and Animation students, Games Programming and Audio students to Brains Eden, the UK's largest international student game jam.
Connor Swannell is a second year Games Programming student who attended Brains Eden last year as well. He said: "The course is super enjoyable and helpful for setting us up to go into industry, and it's always fun meeting people from all over the world at Brains Eden."
What are you waiting for? Apply now.