Hackney artist's 66-foot mural brightens up star-studded photography studio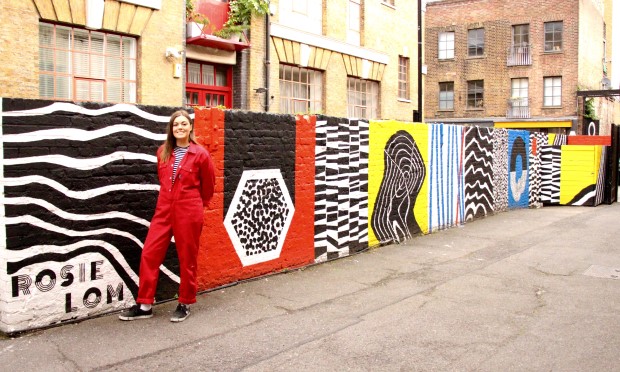 Celebrities heading in for photoshoots at the famous Shoreditch Studios will now get an even flashier welcome – thanks to a new 66-foot mural created by a young Hackney artist.
The studios, which has recently played host to sprinter Usain Bolt, actor Simon Pegg and singer Rihanna, commissioned 23-year-old Rosie Lom to add a splash of colour to the long wall outside its entrance.
Lom used to work in the Bateman's Row building as a photographic assistant, and her time there inspired her abstract design, which reflects props like blue scaffolding, yellow electrical tape and red lightbulbs.
Hollywood veteran Samuel L. Jackson, rapper Tinie Tempah and broadcaster Jeremy Paxman are others on a long roll-call of famous names to have graced the studios.
But Lom is not one for getting starstruck – her grandfather was actor Herbert Lom, who featured opposite comedy great Peter Sellers in the popular Pink Panther films.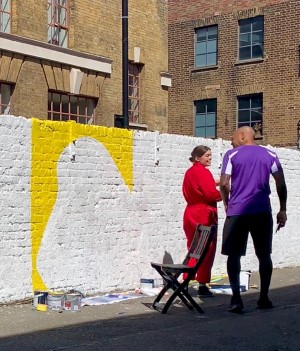 Lom admits that one nimble-footed celebrity managed to catch her off-guard when he sneaked up on her at work.
She said: "I was busy painting one morning when someone cast a shadow over the wall. The guy inspecting my mural, during a break from his photoshoot, turned out to be Thierry Henry."
The ex-Arsenal legend and free-kick specialist knows a good wall when he sees one, and he appeared to be on-side with Lom's design.
Shoreditch Studios manager Katie Palmer said: "Rosie presented us some ideas and we loved them straightaway. The plain white wall in our entrance reception is now full of fantastic colours. She's brightened up the place.
"Rosie's managed to abstractly transfer things that are in the studio onto the wall. We're hoping it'll put people in a great mood when they enter the studio."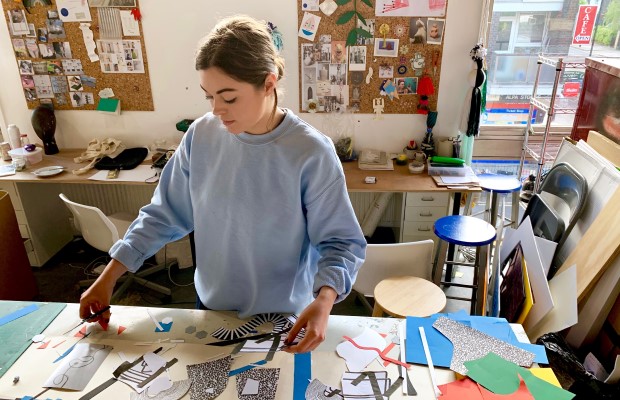 The mural, which took Lom and two helpers, Bethan Smith and Annabel Maguire, 10 days to complete, is to be officially unveiled tomorrow.
The artist added: "I hope visitors will enjoy this extra splash of colour. Every day we overlook so many amazing patterns and colours around us, whether they are striped shadows on the pavement or the geometric facade of a building.

"Noticing these can bring us so much joy in our busy day-to-day lives. I believe in the power of pattern and hope to open up people's eyes to it through my work."

The mural has also helped Lom secure her next piece of work – designing a new shop front for Shoreditch bicycle café Rotate.
For more of Lom's work, head to her Instagram page @rosielom or her website rosielom.com