Hackney Labour 'seriously concerned' as it hits out at government over local food bank shortages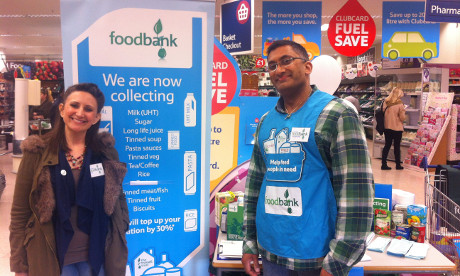 The borough's Labour councillors and mayor are protesting to the government about shortages at the local food bank – as they warn that "thousands of children in Hackney could be going hungry".
The party is urging residents to rally around Hackney Foodbank, which is struggling to keep up with growing demand.
The Town Hall's food poverty chief Cllr Chris Kennedy, says the crisis is "one of the greatest scandals of 21st-century Britain".
He added: "In the sixth richest country in the world, benefit cuts, a broken housing market, and rising in-work poverty means eight million people have trouble putting food on the table.

"The Hackney Foodbank is now desperately running low as there is a huge spike in demand – in part caused by the way the Tory government has rolled out Universal Credit, leaving families with a five-week gap or more without money.
"What kind of government does that? The answer is a government whose chancellor actually denies there is any poverty, and another leading cabinet member who thinks people only use foodbanks because they are there.
"So take them away and poverty disappears? We don't think so."

He went on: "We are seriously concerned at what is happening to people, particularly what could be thousands of children in Hackney going hungry. 

"Hackney is one of the first councils in the country to commit to funding free school meals for families that have no recourse to public funds."
Hackney Foodbank venues are open five days a week.
Attendees receive emergency food on presentation of a voucher issued by a referring agency, such as the Citizens Advice Bureau, a GP surgery, any children's centre, some primary schools and even the police.
Mayor Philip Glanville said: "Hackney Council is doing all it can to support our most vulnerable families: working with local food partnership organisations; ensuring vulnerable families have access to Healthy Start and Alexandra Rose vouchers to purchase fresh fruit and veg; and being the largest funder of lunch clubs in London.

"In the meantime we recognise the importance and need for emergency support such as that provided by the Food Bank.
"We were shocked not only by the news that usage of Hackney Foodbank has increased by 44 per cent in the year to April, but also by the fact a quarter of the beneficiaries were children, mostly of primary school age."
People can support by donating food directly – phone up before doing so on 020 7254 2464 – or to boxes provided at various local stores.
The food bank's website has more information about how and where to donate, as well as a list of urgently needed items.
People can also set up regular online donations at hackneyfoodbank.churchsuite.co.uk/donate.

To give money via cheque, send it to Hackney Foodbank, Florence Bennett Centre, Cherbury Street, N1 6TL, and be sure to include a gift aid form if you are a UK taxpayer.

Volunteer are always need too. You can find out how to sign up  at hackney.foodbank.org.uk/give-help/volunteer.
In the longer term, Hackney Council is developing a local action plan in partnership with the Hackney Food Poverty Alliance, using funding from the Food Power charity project, matched by the Town Hall's public health service to the tune of £10,000.