'Here to stay, here to fight': Marian Court protesters demand action from council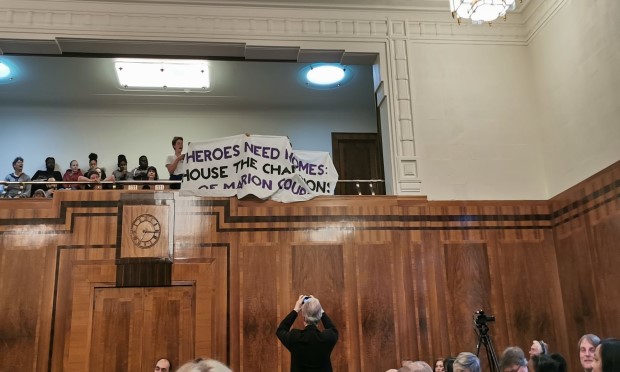 A group of protesters brought the Town Hall's annual general meeting to a halt last night, unfurling a banner calling for two remaining families at the up-for-demolition Marian Court to be housed.
East End Sisters Uncut (EESU) interrupted proceedings with chants of 'Heroes need Homes, house the residents of Marian Court', and 'social housing is a right, here to stay, here to fight'.
The Town Hall has committed to rehousing all families in temporary accommodation in the block within the borough, but two residents, Margaret Mongan and Shahbana Bibi, have said they still feel "left in limbo".
Jana Pinto of EESU said: "We demand that Hackney Council find Margaret and Shahbana suitable permanent housing.
"It has been three years since Hackney Mayor Philip Glanville promised residents that exactly this situation would not happen. We need to hold him to account for the promises he has broken."
According to EESU, Margaret, who cares for her mother and daughter full-time, has been told to move into hostel accommodation by the council, though her doctor advises that the stress of the move could trigger her daughter's epileptic seizures.
The Town Hall says Margaret's family have not yet moved because the property they need, a four-bedroom wheelchair-accessible home with outdoor space close to the Homerton Hospital, is not currently available, and that the "suite" of four rooms in the hostel has been identified while it continues to search for the right home for her family.
Mongan said: "It's very difficult – they're not listening at all. They're wanting me to put three beds in one room, and my daughter is entitled to her privacy. It's just totally ridiculous.
"They're trying to give us four rooms in a hostel where there's two shared kitchens. My daughter has airborne allergies, so we have to be so careful. They're calling it a suite, but it's four rooms, with one of the rooms housing me, my son and my daughter, with a cooker in there as well."
EESU says Bibi, who claims that other households have been "prioritised above her", has been offered accommodation that is "derelict and unfit to house a family".
Bibi said: "In times like this, when people are vulnerable, discriminated against and when their voices aren't being heard, it's really important that there are such organisations like Sisters Uncut that will voice your concerns.
"But it shouldn't have to come to this. I'm really upset that we've had to go to such extremes to be heard, but I fully support them with what they did. Sometimes you have to take such measures in order to be heard."
The redevelopment of Marian Court is part of a programme of hundreds of new council homes being built directly by Hackney Council, more than half of which are planned for social rent or shared ownership.
Hackney Mayor Philip Glanville (Lab & Co-op) said: "I extend a welcome to protesters in this chamber and those fighting outside with Divest and Citizens Uncut.
"You can't as Mayor go around the borough talking about the radical history of protest and not expect to be sometimes protested against. Everyone here supports their right to do so.
"I couldn't agree more with the protesters who have just made their point so eloquently.
"We are working with the residents of Marian Court to ensure that they are properly rehoused, both those in temporary accommodation and those that have right to return as existing tenants and leaseholders.
"I am utterly committed to ensuring that everyone in Marian Court gets the home they need and deserve."
However, EESU protesters were not satisfied with Mayor Glanville's statements on the matter, shouting back: "But they don't have a home. That's why we're here. It needs sorting out."
Other politicians present at the council AGM were not as welcoming.
Cllr Simche Steinberger (Con, Springfield), said: "Obviously, it's never nice to have protesters here. It did concern me to have these types of protests at the council's AGM. I hope that whatever they wanted will be sorted."