Kam Adams elected as Speaker of the Council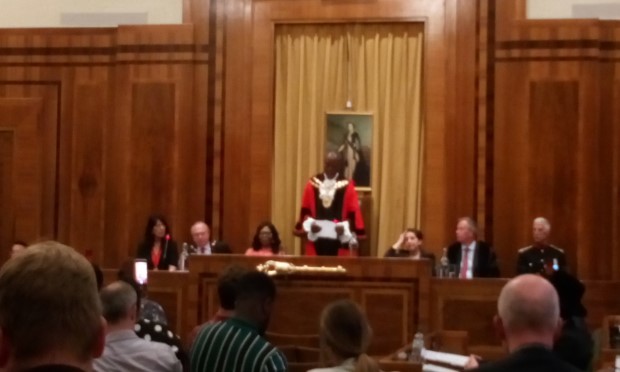 Cllr Kam Adams (Lab, Hoxton East & Shoreditch) has been elected Speaker of the Council for the next municipal year.
The Hoxton councillor has lived in Hackney for almost 40 years, and is a holder of a post-graduate degree in economics, having worked as an economist and network engineer.
At last night's council AGM, Cllr Adams spoke of how his shop selling Afro-Caribbean groceries had become an informal Citizen's Advice Bureau, his first interaction with the community, which he "thoroughly enjoyed".
Cllr Adams said: "I left Nigeria 40 years ago and moved to Hackney 37 years ago. In the early days when I moved to Hoxton, it was not very friendly. Most of my neighbours were National Front.
"When I greeted people on the street I often didn't get a response. Going to the Post Office was difficult because of the sheer amount of racist abuse that would be thrown my way.
"Despite these adversities, I managed to obtain an MsC in economics, and a PGCE in education. I look forward to working with you all over the course of this year to make sure that Hackney continues to be a beacon of tolerance and diversity in our city."
Cllr Adams is also a leading voice in making sure the council connects the growth of the Shoreditch economy to residents, ensuring young people's opportunities in the borough are maximised, according to Hackney Mayor Philip Glanville (Lab & Co-op).
Paying tribute to Cllr Adams, Deputy Mayor Cllr Feryal Demirci (Lab, Hoxton East & Shoreditch) said: "I am very proud to nominate Cllr Adams. I can't imagine anyone more deserving or anyone who can deliver the role better than him.
"Walking through Hoxton Street Market is really difficult with Cllr Adams, because he gets stopped by every other person. He is known by almost everyone in that area because he works tirelessly for his residents, and I know he will work tirelessly for the borough when he is representing them as Speaker."
Joining Cllr Adams in his new role as Speaker will be Cllr Michael Desmond (Lab, Hackney Downs), who has been elected as Deputy Speaker.