Singing for the Brain: 200 people hit the dancefloor for Hackney Dementia Festival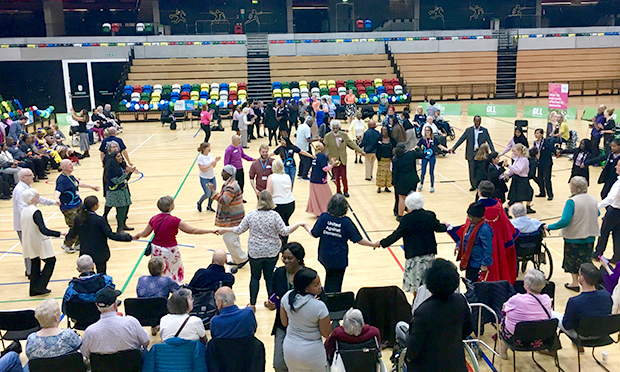 Two hundred people with dementia and their carers enjoyed an afternoon of singing and dancing at the iconic Copper Box Arena in Stratford last week.
The 'Big Singing for the Brain' event marked the launch of Hackney's two-week Dementia Festival, and national Dementia Action Week from 20-26 May.
Guests from Hackney and neighbouring boroughs joined politicians and charity workers on the dancefloor as professional musicians and youngsters from Clapton Girls Academy performed live.
One pupil, Masuma, said of the day: "I learnt that people with dementia are lots of fun. They are really thoughtful and lots of them have amazing talents like singing!
"I loved listening to them talk and encourage each other in the activities. It was so much fun, I hope it happens again."
Local resident Gordon, who has vascular dementia, said: "I love these events. I've made lots of friends from the groups in Hackney,  they are like social gatherings.
"My favourite part about today was playing some of the instruments!"
Others enjoyed their own moments in the spotlight, taking to the mic to perform their favourite songs.
Research has long suggested that music and singing can be beneficial to people living with dementia, stimulating brain activity, lifting mood and stirring emotions, which can, in turn, evoke memories.
The Copper Box Arena at Queen Elizabeth Olympic Park is operated by social enterprise GLL, which works with leading charity Alzheimer's Society to put on regular Singing for the Brain sessions across the UK.
This special mass participation event took place as part of Hackney's Dementia Festival, which runs from 16-29 May and includes a range of events to celebrate the involvement of people living with dementia in arts, culture and recreation.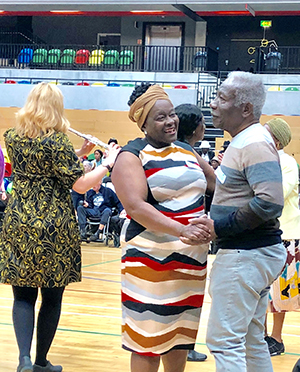 Special guests on the day were Hackney Speaker Claire Potter, the council's dementia champion Cllr Yvonne Maxwell, councillor Kam Adams – yesterday appointed Cllr Potter's successor as Speaker – and London Assembly Member Jennette Arnold.
Cllr Maxwell said: "The Big Singing for the Brain event was a fantastic start to Hackney's Dementia Festival, designed specifically for people living with dementia.
"I would like to say a big thank you to the Alzheimer's Society, GLL and all of our partner organisations who have helped pull together a great programme of events for people with dementia and their loved ones to be included and involved in their community.
"We are committed to continue developing Hackney as a dementia-friendly borough and proud to be leading the way together with our partners to improve services for our residents."
Alzheimer's Society's local coordinator Harry Johnson added: "We're proud of the partnership between our Dementia Friendly Hackney Project and GLL, whose staff have all received some basic training on dementia.
"This came through in the patience, thoughtfulness and support they showed on the day.
"We'd love to hear from other sports and leisure providers in the borough interested in working together, so we can ensure there's even more on offer for the 1,300 people living with dementia in Hackney."
Jennette Arnold AM said it was "wonderful to be involved in such a positive event", adding: "The Alzheimer's Society and Hackney Council should be widely congratulated for their efforts to showcase how arts and culture can significantly boost the wellbeing of some of our most vulnerable local people.
"I have been pleased to see the Mayor [of London] share the commitment of the local council by pledging to incorporate the aim of making London a dementia friendly city into some of his policies."
For more information on Hackney Dementia Festival and what's on, head to the council's webpage
Update: this article was amended at 11.50am on Thursday 30 May to include quotes from two attendees.