'They're your figures!': Petitioners and deputy mayor again lock horns over controversial road closure scheme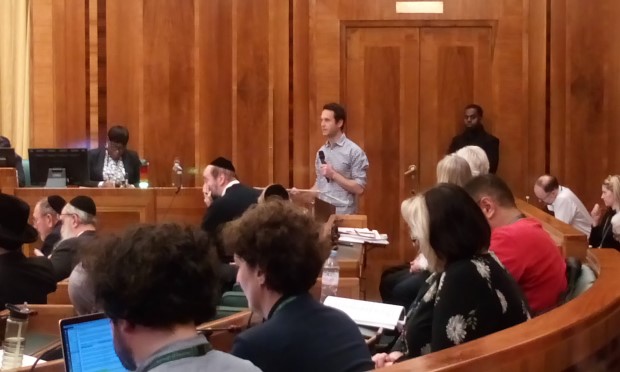 Almost 60 Stoke Newington businesses have joined a protest against council plans that could increase traffic on Church Street by over 20 per cent.
Hackney Council conceded in July that controversial road closure plans as part of its Walford Road scheme to attempt to prevent residential streets becoming rat runs could see an extra 2,080 vehicles a day hit Church Street, according to data released at the time.
However, petitioners spoke out angrily in tense exchanges at a full council meeting on 27 March when these figures were dismissed as "overestimates" in a response by Cllr Feryal Demirci (Lab, Hoxton East & Shoreditch), deputy mayor and cabinet member for health, social care, transport and parks.
Cllr Feryal Demirci (Lab, Hoxton East & Shoreditch), deputy mayor and cabinet member for health, social care, transport & parks, said: "Any traffic modelling involves a degree of assumption rather than predictive certainty.
"We have admitted that the initial assumptions were underestimated, but equally the figures quoted in the petition are overestimated.
"Both are estimates based on assumptions that can only be tested in the real world changes made and monitored.
"This is not a perfect science, or the last scheme that we are doing. We are not a borough that will just put in a scheme and move on.
"But as you've experienced with this scheme, if it's difficult to put a small scheme of this size in, imagine how many more barriers there would be if you tried to look at a much wider area."
Petitioners responded to Cllr Demirci's statement with heckles of 'They're your figures!'.
Cllr Demirci admitted that air quality modelling commissioned by the council was taking "a lot longer than we had hoped", but predicted that the scheme would also benefit from a degree of "traffic evaporation" as a result of people changing their mode of travel, or different routes further away.
The Town Hall's initial consultation predicted 564 extra vehicles a day would use the road.
The petition on the closures was signed by staff at almost every business on Church Street, including restaurants, shops, nurseries and estate agents, and by over 700 residents.
The petition was launched by Heidi Early of Earlybird Cards.
Among the local businesses to sign were: Askew Eyewear, Botanique, Beaucatcher, Bridgewood & Neitzert, Camia Deli, Earlybird Cards, Fuji, Green Room Café, Hub Women's, Hub Men's, Jaines & Son Fishmongers, Kitchen Provisions, Location, Location, Lydia Café, Meat N16, Metal Crumble, N16 Tots, Nook, N16 Flowers, Prep, Shine, Spence Bakery and The Last Crumb.
One shopkeeper complained of having to close the door to their shop between 3pm and 6pm every day "because of the gases coming through and affecting staff".
Petitioner Matthew Dillon said: "These road closures would significantly worsen air quality and increase congestion in areas that are already suffering the worst impacts of traffic.
"There are already around 10,000vehicles moving slowly past every day.
"It is one of the most polluted and heavily trafficked locations in Hackney, with NO2 levels far in excess of the legal limit.
"Running a business on one of our high streets is tough, with, sadly, one third of Church Street businesses having closed down since 2015, and the traders depend on having a pleasant environment."
Dillon went on to call for the Walford Road scheme to be replaced with more ambitious plans "that unite the local community rather than divide it".
The council has committed to publishing their completed air quality modelling data 28 days before any decision is made to allow residents to review the results.