Bus Fare: Writings on London's Most Loved Means of Transport, book review: 'Enjoyable hop-on hop-off reading'
If you take the No 19 that starts at Finsbury Park and trundles along the western edge of Hackney before heading off for points south, you may be lucky enough to be driven by Joe Kerr, who has worked on London buses since 1976.
Moonlighting during much of this time as an architectural historian, Joe has gained unique insight into the role of buses in London's urban landscape.
Now he has teamed up with cultural chronicler Travis Elborough to produce Bus Fare: Writings on London's Most Loved Means of Transport.
Whether or not you concur with the premise of the title, you're sure to find something to delight in this collection of bite-sized chunks comprising history, fiction, poetry and memoires.
The excerpts and short pieces range from a few lines to several pages, grouped in roughly chronological fashion spanning nearly two centuries.
We follow the bus from its original incarnation as a horse-drawn coach modelled on a French business idea.
The 'omnibus' – bus for all – first arrived in London in 1829, plying a route from the pastoral glades of Paddington to the City and back.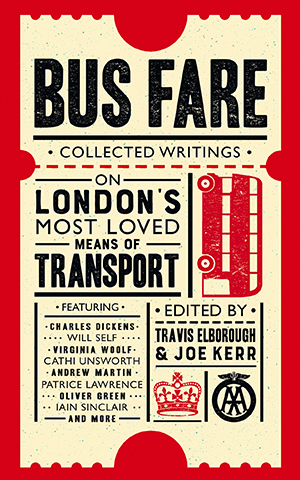 Its precursor had originated in today's Hackney, when in 1827 the Newington Academy for Girls in what is now Stoke Newington Church Street commissioned the original London bus-builder, George Shillibeer, to construct a vehicle to transport its students.
Routes and usage soon proliferated, until by 1901 3,700 horse-drawn buses carried passengers across London.
Horses were retired from London buses in the run-up to the First World War, and conductors were phased out with the demise of the Routemaster in 2005 (with a short-lived comeback on the first of the 'New Routemasters' introduced in by Boris Johnson seven years later).
Nearly two centuries after their introduction, the 675 London routes are currently serviced by 9,000 buses at peak times.
In addition to providing a wealth of factual detail, Bus Fare makes very enjoyable hop-on-hop-off reading, owing to the variety of material and the brevity of contributions.
No special expertise – or even interest – in buses is required to revel in the richness of our collective experience of this most demotic of transport.
The chapters by Henry Charles Moore, Richard Dennis, Sam Selvon, Will Self, Cathi Unsworth and Roger Mills are especially enchanting.
Most evocative of all, perhaps, is Penny Pepper's poem 'Bus', containing lines that will resonate with many – whether or not we live with disabilities – who regularly squeeze onto heaving vehicles:
On the bus
Boris bus
dirty bumpy
horrid bus
There's a trolley in the crip space –
see the child, snotty faced –
bullish buggy hellish mummy
disposition far from sunny
On the bus
double decker
smelly shaky
bony wrecker
The book is also packed full of amusing oddities and trivia.
We learn of plans for electric buses dating back to 1890, of a bus wing mirror taking off the hat of a policeman on the adjacent pavement, of a group of 'ladies who bus' setting out to ride all the routes in the capital, and (finally!) of the official term 'bunching' for that frequently-observed tendency of London buses to travel in packs.
It is somewhat ironic that this book should have been brought out by AA Publishing, given that the AA's main customer base – motorists – are credited with the demise of many routes since the 1970s.
But the publisher has done a lovely job of pulling together a nicely formatted book flush with images and memorabilia, including a wide selection of London bus posters, some of which are design classics.
Bus Fare: Writings on London's Most Loved Means of Transport, edited by Travis Elborough and Joe Kerr, is published by AA Publishing, 2018. ISBN: 978-0-7495-7928-9; RRP: £14.99.