Stik sculpture fetches staggering £150k for homelessness charity
An artwork by internationally renowned street artist Stik sold for ten times its minimum guide price at an auction last month – raising £150,000 for a local theatre company dedicated to helping homeless people.
Up on the Roof, an eight-foot tall, plywood rendition of the Hackney-based artist's iconic stick figure, spent nearly a decade nailed to a brick wall above an east London arts centre.
Stik put the work up in 2010 while working with east London theatre group Cardboard Citizens, which caters exclusively to people affected by homelessness.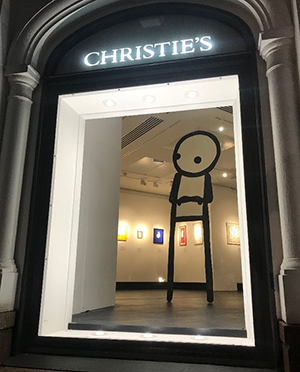 The artist says he only authenticates the sale of his public pieces when it directly benefits the community, and he oversaw the removal and restoration of the sculpture in order to fund future projects by the theatre group.
It was expected to fetch between £15,000 and £25,000 at Christie's auction house in September, but the winning bid was a whopping £150,000.
Stik said: "Cardboard Citizens gave me support and encouragement when I needed it and I know this money will be well spent helping many others who are in need of a little help to realise their dreams."
Cardboard Citizens puts on productions starring people who are or have been homeless, helping them learn new skills and build up their confidence.
Brendan, a young member of the company, said: "It's really important we have access to the arts. It allows us to challenge the status quo, stand up to authority and it's important for just being a human being.
"If you cut the arts you cut a portion of humanity. This funding will allow us to continue the important work we are doing."
Cardboard Citizens' artistic director and chief executive Adrian Jackson added: "It is so wonderful that all these years after we first met Stik on a project, the piece he made for us then ends up enabling us to do lots more projects like that.
"It is just brilliant – like the artist. We are so grateful."
For more information about Cardboard Citizens and the work it does, head to cardboardcitizens.org.uk
To find out more about Stik, visit stik.org