Plastic-Free Hackney campaigner calls for volunteers ahead of busy zero-waste weekend
Plastic-Free Hackney campaigner Bettina Maidment is inviting people to come along to a weekend full of activities – including a zero-waste market, a special documentary screening and a Sunday litter pick on the Marshes.
Bettina has partnered with environmental group Sustainable Hackney to host a number of events at St Paul's Church West in Stoke Newington this Saturday.
From 10am, people can enjoy craft workshops, a clothing swap shop and a zero-waste market with stalls selling everything you need to go plastic-free, from bamboo toothbrushes to reusable cups.
At the same time, inside the church, the weekly Growing Communities Farmers' Market will be on as usual – so remember to bring those empty food containers to fill up with goodies!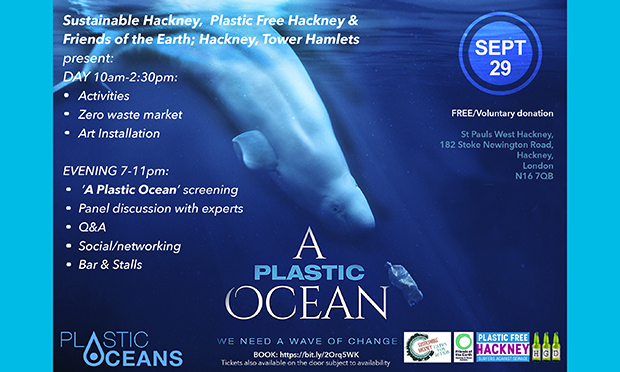 At 7.30pm, Sustainable Hackney's Films for Action series returns with a special screening of documentary A Plastic Ocean – described by Sir David Attenborough as "one of the most important films of our time".
Free tickets are available now on Eventbrite, with voluntary donations encouraged.
A panel discussion will follow the film, featuring Bettina as the founder of Plastic-Free Hackney, Friends of the Earth campaigner Julian Kirby, Tash Rutherford of the Plastic Oceans Foundation, Philip Kyeremanteng from the Canal & River Trust and Jack Agnew of Get Loose.
Bettina said: "The aim of the panel is to highlight local solutions to a global issue. We may not be in Cornwall by the ocean or lakes, but we're still connected.
"Every bit of rubbish in the River Lea ends up in the Thames. That's our problem too, not just other people's.
"The panel will be talking about ways we can change things."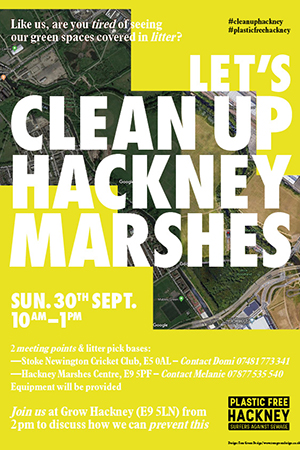 The weekend culminates in a litter pick at Hackney Marshes on Sunday from 10am until 1pm, organised by Plastic-Free Hackney.
Equipment will be provided, so just put on some suitable clothing and you're good to go.
Meeting points are at Stoke Newington Cricket Club and Hackney Marshes Centre.
Bettina added: "The litter pick is a real way for people to help out. We often focus on the global environment, but our local environment is just as important.
"It's a source of nature for the community – all the geese and ducks around here are affected by pollution.
"It's also a nice day out and you can meet like-minded people who are also interested in sustainability. Also, the council can't send people out to scour the undergrowth, so this a great way to do your bit and help tidy up Hackney."
Bettina is also appealing to anyone who wants to get involved in Plastic-Free Hackney to come along on Sunday to meet her and have a chat about the various ways to support the campaign.
For more information about Saturday's events, or for screening tickets, head to eventbrite.co.uk