Shep's, Dalston, restaurant review: Kingsland Road mavericks of Korean cuisine deliver exquisite Seoul food
Shep's is one of a growing number of food and drink businesses – Pamela, The Fox, Chick 'n' Sours, For Fuk Sake – joining established Italian Rotorino on Kingsland Road's mid-section, which is turning into one of London's tastiest and least pretentious dining spots.
Shep, aka James Shepherd, is using drinks expertise and chef contacts, developed during his time at Pamela's bar a couple of doors down, to bring Hackney this Korean-inspired menu of anju – drinking food, like the aharn glam lao served up by Shoreditch's Smoking Goat.
Shep knows the area enough to let me in on a trade secret – this ain't W1; put the bar at the front to draw in the party-friendly Dalstonites. Sure enough, the simple low-ceilinged joint fills up with a quickness as the sun sets.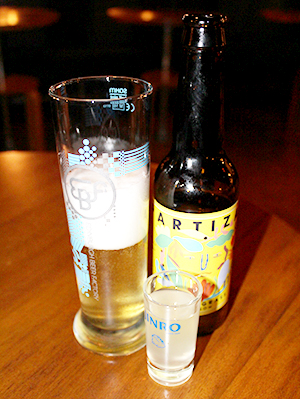 He hands me the list of Boilermakers – a global scroll of double-drink options, each themed around a different cuisine. There's Hite lager and soju (a clear spirit usually made from distilled fermented rice) for the authentic Korean experience, a pairing based on Breton cider for Francophiles, and my choice, Partizan Brewing's Saison Lemongrass beer sweetened up with a shot of yuzu sake for a riff on Thai flavours. Mostly, it's a rare chance to get two drinks for £6 in London, and indicates an admirable commitment to getting hammered in interesting new ways.
In the spirit of putting the drinks first, I will mention up top that the selection is really superb for a restaurant – a variety of soju coolers are infused in-house with sweet lychee and other treats, there's a generous wine list, and even a small-but-varied beer collection including several from Fourpure, like their Citrus IPA, Juicebox (which is more deserving of the mass availability of Brewdog's canned fizz in my opinion).
Head chef here at Shep's, Matthew Parker, also formerly toiled at Pamela (and elsewhere) as part of the Decatur team, which explains his nifty, indulgent way with the oysters we start off with. Both the punchy raw option, with citrus kosho mignonette and hot sauce, and the buttery chargrilled oyster with chilli and ginger, hot sauce and togarashi spice (aka another dose of chilli) are sublime.
Every new restaurant this year needs to have a charred cauliflower dish, it's the law. Shep's take, with fermented chilli and peanut, is a formidable starter. It's not overtly spicy like many of the dishes here, and the other flavours don't drown out the naturally mellow presence of the brassica, even with a big slosh of soy turning the florets a deep hue.
However, sampling from the specials board is when the quality of the food starts to really shine through. The pork donkkaseu sandwich has all the lush, white-bread comfort of a drunken steak sandwich, with shallot mayo (and pickled shallots) a perfectly sharp palate-cleansing accompaniment. This dish may look simple, but there's huge attention to detail – even their choice of crispy onions sings.
The other special, pork and leek xian bing, appears as exploded peppery dumplings, augmented by a few almost-smoky green chillies that have been fermenting since last July. It's almost criminal that neither of these are available in perpetuity, so on this evidence, you should stay glued to Shep's Instagram for the latest offerings when you're planning a visit.
My dining partner's veggie main is XO noodles. You could argue that Shep's could have a weeny bit more in terms of vegetarian/vegan options given the lay of the land here in Hackney, but these noodles could grace the table of even the most McCartney of pampered plant-lovers – the slight al dente quality only heightening the shroomy, oily moreishness.
I plump for the onglet of beef (a small, tender cut also known as hanger steak) on top of a smoked onion and doenjang (a soy and brine paste like a chunky miso) purée. Sorry to those (if any) who mainly follow my vegan engagements, but this is shockingly, wildly good – steaks served with sauces aside from the classics (red wine, peppercorn, chimichurri) are often hard to justify against the appeal of chips, so the reveal of the umami-drenched purée under this delicate meat is like opening the doors of perception to a new reality (maaan).
By the time that I've been informed that Shep's do brunch as well (also excellent according to my colleague) and a personal favourite musical obscurity, Laurie Anderson's Sharkey's Day, comes on the sound system, I'm pretty convinced that this place was made for me. It's decently priced too – mains can be had from £7.50 to £14; the many sharing plates and banchans (sides) for even less, averaging at about four quid to a fiver.
So I'll be understandably annoyed if you all ruin it for me – but make no mistake, you have to try and be thrilled by this Korean cuisine, as a matter of urgency.
Shep's
392 Kingsland Rd
E8 4AA