Decatur at Pamela, Dalston, restaurant/bar review
Andrew Barnes" />
Among the varied set of outlets, pubs and restaurants on the Dalston end of Kingsland Road lies Pamela, a bar where upon entry an unassuming exterior gives way to an interior with a strange theme. All around are pictures of, and artifacts from, famous Pamelas – mostly Anderson, but with a hint of Ayres, Des Barres, Grier, and some who haven't quite made my mental Rolodex of Pamelas. This could be annoying in the hands of others down the road (e.g. in Shoreditch) but is presented here with a winking charm, and I was eager to take my seat and evaluate the other of Pamela's main attractions.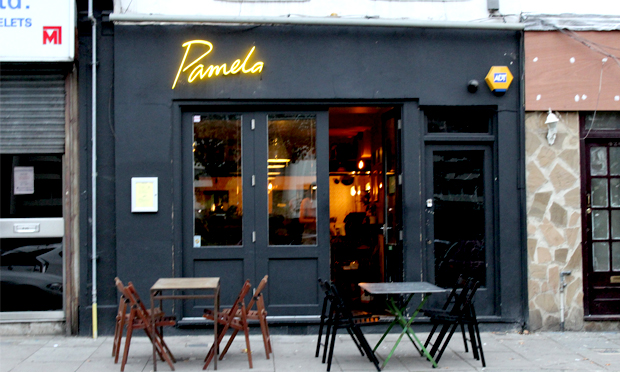 Before taking over the Pamela kitchen, the original incarnation of Decatur was head chef Tom Browne's stall on Druid Street Market in Bermondsey. Here, word of his New Orleans-inspired dishes spread, with a particular focus on the chargrilled oysters I opted to try first. I went for the £7.50 smaller plate of three, with those who yearn for more of the molluscs having to shell out £14 for six or £24 for 12. The clams are heaving with garlic butter (with bread to mop up with) but the first hit is mostly of the pecorino cheese sprinkled over the top. This isn't unwelcome, but the briny flavours of the gulf reveal themselves with the one-two-chew of the chargrilled flesh, and with the further addition of Crystal Hot Sauce imported from Louisiana, pretty much every taste bud in your mouth comes alive.
Over half of Decatur's menu items are small plates ranging from £4 to £7.50, which will suit those grabbing a (bit of a) bite and a (lot of a) drink before heading to one of Dalston's nightspots (sadly the dearly missed Power Lunches, which stood nearby, is no longer an option.) Of these, the Crab Hush Puppies were a deep-fried standout – the mind boggles at how something submitted to a plunge in boiling oil can remain so fresh tasting on the inside, the Brixham Crab meat positively sparkling in the centre of the delicate batter. The dip, Crab-Boil Mayo, has a spicy kick and rich creaminess too.
The Smokey Pimento Cheese on Benne Crackers is elevated above 'just cheese on a cracker' by the beef jerky dotted around it, but over this I would recommend the Barbecued Broccoli with Smoked Peanuts and Perilla Leaf, which is like the tender broccoli from an excellent soy and chilli stir-fry has been plucked out and bowled up (although the dressing is a touch more smokey than wholly Asian inspired.) I washed this selection (4 dishes with a main and a pudding still to go, for those keeping track of my cholesterol) down with a cocktail.
Pamela's drink selection covers craft beer (including Beavertown's Neck Oil, which I would happily have replace water in the nation's taps and reservoirs), shots, a full wine list and more, but their cocktail menu is where the focus is, not least in terms of Pamela-punning names. I had the Rhu-Barb Wire, roughly ten times better than its cinematic namesake. The sweet but neutral tones of the fig and rhubarb are perfect for hazing the emergence of the alcohol, so like all good cocktails, this'll put you on your backside while you remain blissfully unaware.
My main course was the Crawfish Étouffée, explained to me as a lighter take on gumbo, with no loss to the comfort-food factor. The thinness compared to gumbo or chowder takes some getting used to, but the Louisiana staple is still honoured brilliantly flavour-wise, with a zesty tang that compliments the buttery base and supple crawfish. This again comes in two different sizes, which I really approve of – along with the small plates and sides, being able to sample all of these facets of Cajun and Creole cuisine like a greedy guest at a backwoods barbecue, is a boon.
Finally, Pamela and Decatur both provided me with a little extra treat before heading out into the cold night. Pamela provided a shot, not my preferred form of alcohol conveyance since several regrettable teenage nights of £1 Apple Sourz. However this was Jalapeno Vodka, infused in-house in optics behind the main bar, and it had a quite lovely sweetness intensified by the chilli rim, like a tequila slammer started wearing a seersucker suit and saying 'y'all'. Decatur's was Chocolate-Orange Chess Pie, with Makers Mark Old Fashioned Ice Cream – and to be honest with a name like that I barely have to tell you how delicious it is. With the taste of chocolate and sweetened bourbon on my breath, I saddled up and rode (actually walked) to Dalston Junction, off home to dream of oyster-shucking in the bayou, Pamela Anderson, and a return visit for more good eatin'.