Smoking Goat, Shoreditch, restaurant review: 'like they've entered a cheat-code to my heart and stomach'
It almost seems unreal that Smoking Goat, the second such 'nu-Thai' restaurant from Ben Chapman and Brian Hannon, used to be a family-run strip club, considering the parade of stony opulence that now encompasses almost all of Shoreditch High Street.
While many mourn the changing face of the area, Smoking Goat (to its credit) feels welcoming – not as rough and ready as the Bangkok canteens it honours, but pleasingly bustling and casual, with the lighting of a cozy pub.
It helps, of course, that this is an excellent brand of spicy, Asian 'drinking food', or aharn glam lao to use the Thai expression.
Speaking of drinking, my dining pal and I settle in for the night with 2/3 pint glasses of Neck Oil and One Mile End's Juicy 4pm, an almost tangy dry-hopped New England pale. (Cocktails are available from £6 to £8, and there's a well-rounded wine list as well as other "Odd Liqueurs" like Damson vodka and plum wine.)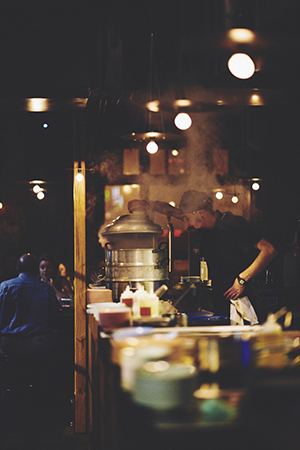 There are interesting beers from Somerset's Wild Beer and Sussex's Burning Sky on the menu, but said menu's a little slight, considering the focus on drinking. I wouldn't be surprised to see a more extensive bottle and can selection make its way here in the future. The glasses come frosty and chilled courtesy of a freezer in the bar – rare and welcome.
Our server Jo is a gem too: funny and helpful, she breezes through the options with quick, informative notes on each, getting us truly stoked/scared for the spice levels of the Northern duck laab, which we dutifully order.
Don't come expecting pork scratching prices – while there are two skewers – chicken heart and barbecue Tamworth pork – on the menu for a quid and quid-sixty respectively, they're both about four inches long. However, to quote my online dating profile, it's four inches of pure enjoyment.
The pork is slightly better than the hearts – its small, soft slabs of fat melt and coat the tongue kindly with warm, tingling spice – but like the Tin Man before me, I've never had a heart before, so its metallic notes might be an acquired taste, and its spice mix is deep and enjoyable.
The next two small plates to arrive are a masterful study in contrasting use of chilli.
The steamed Menai oyster (below – fresh on the day) are paired with roasted chilli that imparts a wonderful sweetness to the sea wash of the oyster. An amazing morsel.
Meanwhile the infamous Laab, whilst not as spicy as Thai gets (a dish I once had at Hastings' Boulevard bookshop & Thai Cafe had me seeing through time) is sharp and breath-quickening, and makes its minced liver and heart sing with hot and sour chilli – enhanced by Thai basil, other veg and even the crunch of dried rice. (It's almost like the Chinese dish mapo tofu, without the tofu.)
Large plates are also on offer, from D'tom yam soup full of wild mussels and velvet crab at £9 to a whole steamed wild bass, at market price. Although the drunken noodles, with smoked brisket, tempt, we opt for a Massaman curry for the table, with barbequed goat promised in the restaurant's name.
It has everything you'd want in a curry, especially three sheets the wind. The sauce is well balanced with a perfect ratio of coconut cream to tamarind/fish sauce et al, the new potatoes are velvet, and, to be frank, you get a cubic shitload of goat.
The meat may be too fatty for some, but again – not when paired with beer. Not to go full Gregg Wallace again, but it's like a warm hug. I wouldn't be surprised if a particularly inebriated customer just goes all out and sticks their face in it.
The combination of plentiful cold beer and Thai food was always going to be a winner, to be honest – it's like they've entered a cheat-code to my heart and stomach. The spice and indulgence of Smoking Goat is a great tonic to the increasing stuffiness of Shoreditch.