SPACE is the place: we delve into a new book celebrating 50 years of the artistic engine of East London
Artists in the City: SPACE in '68 and beyond is a collection of thoughtful essays on the history and resonance of SPACE's five decades providing both literal and metaphorical room for radical art in London, penned by founding duo Bridget Riley and Peter Sedgley amongst other artists.
The book will be launched at SPACE Mare Street today, Saturday 17 March from 3 to 5pm – this free event will see Andrew Wilson, senior curator of modern and contemporary British art, and archives at Tate Britain, give a talk.
There will also be a panel discussion on what, if anything, the future of artist-led spaces in a city like London could look like. Coming to the Whitechapel Gallery's Zilkha Auditorium on Thursday 22 March, this will feature Sedgley, former SPACE resident Robin Klassnik, Kate Cooper from similar org Auto Italia and others, in conversation.
SPACE now has studio sites from the Old Kent Road to Colchester, but perhaps their most storied location sits right in the heart of London Fields, in a sprawling former trouser factory at 10 Martello Street. We've convinced them to crack a copy of the book open a little early for us.
Bruce Lacey, pictured above in his studio, acted not only as Martello's caretaker (living in the space's internal cottage) but also as a bridge between artistic generations. By 1974, when SPACE welcomed Cosey Fanni Tutti (see picture at top of page) and Genesis P-Orridge to Martello Street, Lacey was in his 40s.
While his work in sculpture and audiovisual contraption-building was offbeat (he had even collaborated with absurdist comedy troupe the Goons in the 1960s) the ex-Navy man wasn't making the kind of extreme work that Fanni Tutti and P-Orridge would become known for – first as COUM Transmissions, then as Throbbing Gristle.
Artists in the City details Throbbing Gristle's "shockingly new" sound – "abrasive, DIY electronic technologies; free improvisation; and spoken or shouted vocals". These early TG records, which in one fell swoop invented the genre of 'industrial music' were developed at Martello Street Studios, which they renamed the 'death factory'.
Robin Klassnik was a SPACE tenant at their first site, snuggled up next to Tower Bridge at St. Katherine's Dock. A recent graduate, his experience – both at the docks and, from 1971, at Martello Street Studios – opened his mind and his practice (mostly photography, 8mm film and performance work) up much further. He has called SPACE his 'formative education', and it allowed him flexibility and the opportunity to collaborate.
This collaborative spirit, engendered with SPACE, had a huge knock on effect on the rest of his life. Inspired by his role in SPACE's Open Studios in 1975, he eventually opened his own little corner of the building as its own gallery, named Matt's Gallery. Now based in Bermondsey and soon to move to Nine Elms, Matt's Gallery is still running with Klassnik at the helm – now a holder of an OBE for his years of pioneering work.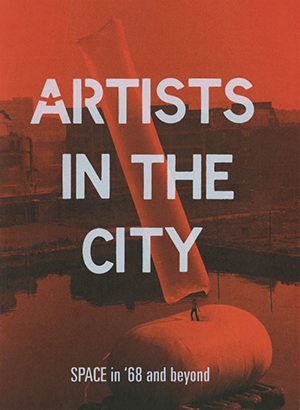 He is one of the hundreds of artists who, over the last and hopefully the next 50 years, have made the most of their time with SPACE. And through it all, Martello Street Studios still acts as a campus for some of the most exciting voices in contemporary art.
Artists in the City: SPACE in '68 and beyond will soon be available to preorder – for more details visit spacestudios.org.uk