Hackney: portrait of a community 1967 – 2017, book review: Pillar of Society
Timothy Cooke" />
Half a century since the inception of The Hackney Society, the organisation has published a sprawling anthology – an essay and contributor for each of its operating years – documenting a complex and beguiling modern history of the borough.
Stretching from the redevelopment boom of the sixties, through periods of rich diversification, catastrophic council failings and numerous stirring campaigns, right up to the polarisations of the present day, Hackney: portrait of a community is as comprehensive as it is absorbing. The short articles and their varied perspectives make for pacey reading, while the authors' considerable expertise in their respective topics ensure depth and clarity.
John Finn kicks things off with The Birth of the Hackney Society, explaining how the organisation formed as a reaction to the mass homogenisation of housing – a benevolent but naïve response, inspired by the Abercrombie Plan, to widespread sub-standard living conditions – that was threatening much of Hackney's built heritage. With the poet John Betjeman on board, it set about its business of preservation, improvement and constructive criticism, fending off compulsory purchase orders and the like.
This theme of defence against a reckless, insensitive kind of housing municipalisation – the "struggle to weigh long-term goals against immediate pressures", as Nick Perry's afterword describes – runs throughout the early chapters and is perhaps the book's most absorbing aspect.
Local Conservative Chris Sills' interesting piece on the unthinkable three-year period of Tory rule in Hackney, from '68-71, celebrates a reset housing policy that slowed down "the juggernaut of redevelopment". He argues well for his party's lasting contribution to the protection of the borough's built environment, making some honest acknowledgements of failures along the way.
There is, however, an air of self-congratulation that's soon challenged in an article by former Labour councillor Stuart Weir, who, though acknowledging the Conservatives' role in saving De Beauvoir from the bulldozers, describes the then team of new Tory councillors as "incapable of running a whelk stall". He also pays credence to the influence of a changing political climate in Whitehall and the emergence of conservation and rehabilitation as alternatives to wholesale redevelopment – not least through fresh council powers to designate General Improvement Areas.
While this exchange makes for fascinating comparison, subsequent essays on the 'Motorway Box', rundown Shoreditch and victory in Mapledene enrich the planning and development discourse considerably. But it's Michael Passmore's 'The Completion of the Trowbridge Estate' that resonates most poignantly today. Touching on prefabrication, system building and the associated health and safety pitfalls, he delivers an engrossing critique of Hackney's modern architecture, closing with a sensitive reflection on the Grenfell tragedy and its local implications.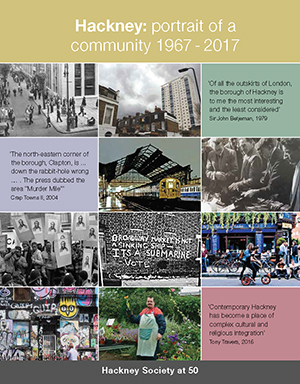 Other standout articles include editor Laurie Elks' meandering history of the North London Line, Linh Vu's at times harrowing account of the journey of Hackney's Vietnamese community, Russell Miller's work on Abney Park Cemetery – where you'll find various Chartist leaders buried amongst the rich biodiversity – and a well-balanced, surprising exposition on Broadway Market.
I also particularly enjoyed, as a teacher, reading about the transformation of the borough's education system, and of The Save the Reservoirs Campaign – having found a beautiful document in Hackney Central Library, on my first visit six years ago, that contained a series of drawings by schoolchildren representing what the site meant to them. For residents, new and old, much of Hackney: portrait of a community will resonate on a personal level; it will appeal, repel, invigorate and infuriate, just as any such history of a borough as shifting and multifarious as ours should.
Hackney: portrait of a community 1967 – 2017 is edited by Laurie Elks and published by The Hackney Society. ISBN: 978-0953673438; RRP: £18 + £5.50 p&p; available from hackneysociety.org