Running the Hackney Half (Term): an activity guide for local parents
Andrew Barnes" />
I'm sure all the teachers reading this are familiar with Getting the Buggers to Behave – Sue Cowley's guide to captivating unruly pupils.
During half term – which spans 23-29 October for most Hackney schools – that titular responsibility, usually split with long suffering educators, falls 100 per cent on parents. Panic stations.
Happily, our fine borough has many provisions for the week's grind, all aimed at keeping local kids extant, entertained and even educated. (It is inadvisable to mention this last part to any children.)
Here's our rough guide to just a few of the half term highlights:
The Geffrye Museum
Hoxton's Geffrye Museum of the Home is planning six or seven free craft workshops a day from Tuesday 24 to Friday 27 October, catering for two-year-old toddlers all the way up to surly early teens.
Participants can create luminous light sculptures, bedroom name signs, tote bags, board games – even more surreal items like articulated puppets, Vietnamese ceramic rice spoons and a 'Travelling Bird Feather Duster' (no home should be without one).
If your child refuses to spend a couple of hours not looking at a screen, then you too are in luck at the Geffrye. Their range of digital workshops use animation and video to deepen kids' appreciation for the Geffrye's collection of domesticana.
Places are allocated on a first-come, first-served basis 30 minutes before the activities start, and children aged 11 and under must be accompanied by an adult.
Museum of Childhood
In addition to their Michael Morpurgo exhibition A Lifetime in Stories (which continues until February 2018), the V&A Museum of Childhood's huge iron-clad surrounds will soon be full to the brim with teddy bears.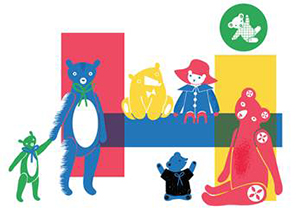 There'll be plenty of free ad hoc, drop-in type sessions, but there are four paid ones as well. On 21 and 22 October, there's a Make a Teddy Bear Workshop from 2-4pm for £15 per child. (Ages 8+). Then, half term's Monday to Friday will see kids aged 4 and up creating a "rainbow coloured, miniature teddy bears' picnic scene" with illustrator Amy Brown. (£5 a pop.)
Upcycling – not just for frugal adults! Maker Cherene Hamilton will host sessions aimed at jazzing up worn out old toys. These will take place on the Monday and Tuesday of half term, and tickets are £7. For the same price, snap-happy youngsters can visit on Wednesday 25 to Friday 27 October and join photographer Marysa Dowling in exploring special memories of favourite toys through making and papping.
Hackney Museum
Artists from learning disability charity Advance UK will visit Hackney Museum on 25 October for a lunchtime session of music, songs and art inspired by the Caribbean.
The theme continues later that week – Thursday 26th will bring #BlackArtMatters and a chance for the whole family to come together and make posters and flags, and on Saturday 28 October), #BlackHistoriesMatter will allow organisation Young Hackney to deliver some knowledge on the "poetry, petitions and protests" of African Caribbean people throughout history.
Other activities
Hackney Learning Trust have put together a document, detailing playschemes and adventure playgrounds, providing more information on childminders and children's centres, and listing yet more free drop-in activities held across Hackney's eight libraries (including a comic making day, family fitness and even a Lego club). This can be found at bit.ly/halftermhackney.
We at the Citizen wish a happy half term to all.