Meet the man monkeying around with 1970s T-shirt transfers
Andrew Rutland was in the rag trade when he stumbled upon his joyous bounty of T-shirt transfers.
More specifically, he was the owner of Pose, a streetwear brand. He'd get T-shirts printed up on Well Street – by The Tremeloes' former roadie, no less – and buy other garments straight from safety-wear manufacturers, retrofitting them with rave-friendly, tongue-in-cheek reflective badges.
One day, the hunt brought him to a warehouse in Stoke Newington, owned by a member of the Hasidic community.
"I came across a room filled to the brim with old 1970s T-shirt transfers," Rutland recounts. "A deal was hastily struck and I drove all the transfers away in a Luton van the following day."
Twenty years on, Rutland's find has been released from his garage and back out onto the streets of Hackney, under the guise of Let It Gibbon.
And what a find.
"The guy who sold me the transfers told me there were 100,000 when I bought them," Rutland reveals. "I never counted them or even really sorted them out until recently but I reckon there's way more. There are around 200 different designs."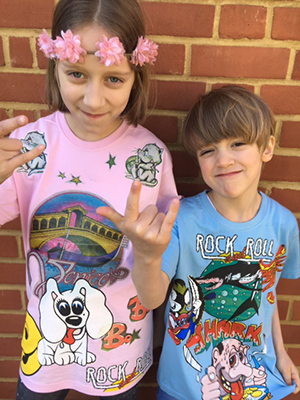 These range from logos for bands like Ian Dury and the Blockheads and Blondie to simpler designs like animals, faces and a suggestive pair of "big balloons".
Gibbon's core concept is as follows: you pay your tenner or 15 quid, grab a pile of transfers, and get cutting. Once you've assembled your masterpiece of couture, Rutland will heat-press it on for you.
It's a must for budding Wayne Hemingways – a man who gave Let It Gibbon pride of place at his Classic Car Boot Fair.
The name, of course, comes from The Goodies' legendary Funky Gibbon, a song commemorated in one of the transfer designs, and a DJ spinning period-accurate children's music is a key part of the Let It Gibbon experience. (A top five of Let It Gibbon tunes follows this piece.)
The lurid designs do seem to fit in with the fashion milieu in East London, and Rutland is effusive on this: "I feel they have been slowly fermenting for another 20 years on top of the 20 years they probably had in Stoke Newington, and are now of the perfect age.
"Our obsession with needing to be there and experience it, our quest for individuality, crossed with our culture for mashing things together – added to the fact that there is no question whatsoever that wearing a T shirt saying 'Lay Chicks not Eggs' is now definitely unacceptable and can only be worn ironically – has made the Let it Gibbon T-shirt parties a big hit."
If you can't catch Let It Gibbon this weekend at Bohemia Place, never fear – Rutland says supplies should last for several summers yet.
Let It Gibbon will be at the Bohemia Place Pop Up (under the arches by Hackney Central station) this Saturday and Sunday from 12.
You can follow them on Instagram here.
The Let it Gibbon Top 5 Children's Tunes.
1. The Funky Gibbon – The Goodies
2. The Laughing Policeman – The Suspicions ("a crazy experimental 80s version of the 20s children's classic")
3. Tiger Feet – Mud
4. Mah Na Mah Na – Pierro Umiliani ("the original of the tune made famous by The Muppets originally recorded for a Swedish porn film")
5. Yakety Sax – Mexicali Singers ("the Benny Hill theme tune reimagined")