ELATT: a learning community that helps people of all ages move forward in their lives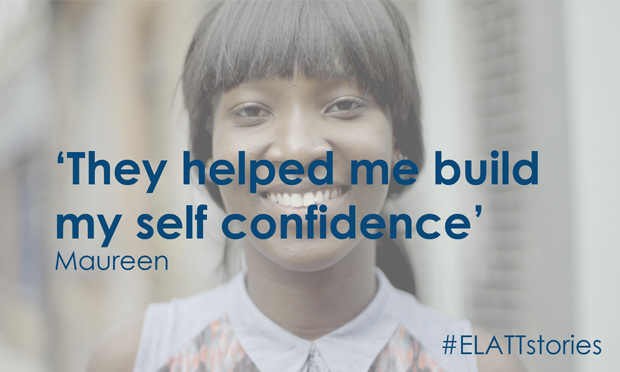 Our community is supportive, diverse, and welcoming. We're based in the heart of Hackney on Kingsland Road, just a short walk from Haggerston station.
We offer free training and skills within the local London community. Choose from a wide range of courses from Beginners English to Level 2 English to Web Design, Computer Engineering, Media, Business IT and Admin. The majority of our courses are free and we offer a wide range of advice and support services.
Our main priority is the focus on employment throughout your learning, giving you the tools and support to reach your career goals: whether that's joining a new industry after up-skilling on one of our digital courses, returning to work or starting your career from scratch.
Our tutors and student support staff are outstanding: year on year our pass rate and job success results get even better. What's more, we were awarded Grade 1 (Outstanding) in our most recent Ofsted Inspection (January 2015). In 2016 we exceeded all expectations by winning three awards at the TES Further Education Awards 2016, including Employer Engagement of the Year; Training Provider of the Year; and the most prestigious prize, Overall Provider of the Year.
We want everyone to gain the skills to succeed. ELATT is a community created by students who take the lead with their future.
• We're an award-winning charity with a history. For over 30 years we have supported hundreds of Londoners to better their lives across the capital.
• We're a learning community that offers a whole person approach. Every day we welcome students who want to develop their skills, gain confidence and learn at any stage of their lives.
• We're experts and professional industry insiders; we understand what today's workplace is all about and we excel in bringing learning to life.
• We love people: We're tutor led and focused on peer support – face to face, online and interactive
• We know it's not just about getting qualified: Our 360 support gets to the heart of your development and welfare needs
• We want you to improve your life: We offer employment and careers advice to take you to the next level
• We're unique: We have a big personality, but we're big on being the best we can be too (and did we say we're award winning?)
Find out more from our students:
• Maureen felt like the world was moving without her. ELATT helped her find the pause button. Can we help you?
• Jaiyeola says we have opened doors for him. Can we open doors for you too?
• Georgia's careers advisor suggested she visit us and it changed everything.
Are you inspired to become an ELATT student this September? Get in touch with our friendly advisors and we can chat to you about your training options.
Drop by: ELATT, 260 Kingsland Road, London, E8 4DG (Open Monday – Friday 9am-5pm)
Call us: 0800 0420 184
Email: hello@elatt.org.uk
Check out our course list for full details: www.elatt.org.uk/courses