Richard III, Arcola, theatre review: the bovver boy royal in a bare bones production
Peter John" />
One of the great advantages of small venues like the Arcola is that you experience Shakespeare close up, which enhances the visceral quality of a play like Richard III.
I connected with Shakespeare by watching BBC2 productions in the 1970s, which were often set in dark locations with bare bones sets, where everything happened in the shadows and the faces of the actors. There is something of the same feel to this production, with only the basic elements of a set and minimal staging.
What the intimacy does is to emphasise the ensemble character of the play, which has a large number of characters, most of whom are murdered at Richard's behest by his henchman Catesby, played with an impressive coolness and calculation by Matthew Sim, who is quite terrifying as the body count mounts.
We get to know these people well, as they are deceived by Richard as he plots to get the Crown. The co-conspirator Buckingham is played suavely and slightly humorously by Peter Guinness (getting an audience laugh from the phrase 'My hair doth stand on end' with his bald pate).
The characters are believable, like Hastings (Mark Jack), who has just the tiniest resemblance to the late Leo McKern. Lines are delivered clearly in this pared down text that keeps a lot of the classic phrases, especially of the animal kind that are so frequent (e.g. 'bottled spider'). Modern vernacular also creeps in to engage the audience.
The women are really good. It is easy to forget that Shakespeare gives them a crucial role: they are strong, understand the evil nature of Richard much more than the men, and stand up to him as much as they can, such as Lady Ann (Georgina Rich) who Richard tries to woo. She starts off cool and reserved; then she gives a magnificent choleric performance as her rage mounts.
These performances counterbalance Richard's appalling views and his terrible treatment of women. In the programme notes, Emer McHugh points out that Richard III is not a feminist play, but it does illustrate structures of power that Shakespeare was interested in.
And now to Richard, who of course dominates the play – maybe even is the play. Every director and actor faces a problem about how to cast him, for he is evil and dissembling, a caricature with a humped back and rabid dialogue, even if there are moments of humanity and suffering (as is typical of Shakespeare's villains).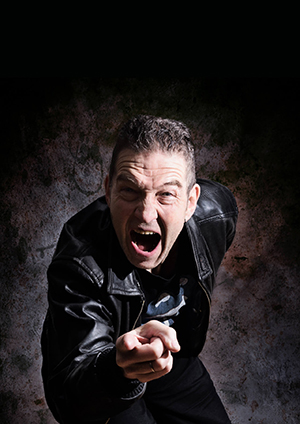 It is possible to try the more human and driven side, which was done successfully in the Almeida's recent production with Ralph Fiennes in the title role; but even that veered to parody.
There is no such subtlety in Greg Hicks' performance. The picture on the front of the programme (see right) says it all, with his leering face almost shouting out from a crooked body. The actor's drama amp is turned up to the max.
He really goes for it, not letting up until the final scenes let in a few moments of sadness. The performance is on fire with every word delivered with a grimace or other extreme facial contortion, his body continuously turning to and fro as he swiftly moves crab-like across the stage. It is quite amazing to watch how he performs, at turns humorous, sarcastic and nasty, conveying this immense belief in himself to struggle against the world.
He's dressed down in a leather coat he wears throughout, almost a bovver boy with the long chain that hangs from his waist, his hand always clasped in a leather glove. There is a something of mid-period Ian Dury in this look (minus the rhythm stick).
He brings a white working class insouciance to the role, which highlights he is an outsider to the royal court in spite of his noble birth. Overall, the performance might be too much to bear, but it's engaging and entertaining. The audience really enjoyed it.
The production works well in a limited space. The contrasts in lighting effectively set the pacing and give shafts of light for the quieter moments. The music is well judged. There is not much of it, but the sounds are carefully chosen, with occasional chords, some electric dissonant noises, and funnily enough quite a lot of jazz (like 'Take Five'). I would not have imagined that jazz would go well in such a play and period, but strangely it works rather well.
Overall, there's lots to like in this enjoyable production, where the actors give their all.