'You have to look deeper than a Pinterest board'
It's rare that 'estate agent' and 'former hip-hop DJ' can be appended to the same person's name.
Granted, John McDavid has had 10 years' worth of agency experience since those heady days, but at the time the move into property was "a surprising jump to people who knew [him.]"
McDavid took another leap last September when he set up Aucoot (named for a much loved cove in Cape Cod), and started building an estate agency in his own art-college, design and photography driven image – "drawing inspiration from the way that the Scandinavians sell their homes" as he tells me over the phone.
When I ask about the typical client he sells for, McDavid freely admits that Aucoot "isn't for everyone. People whom [I'd like to work with] have spent time carefully creating their living environments. So they're the design-literate, who want to work with an agency that values good design, and that understands how to communicate the thoughtfulness that goes into what they've made."
"Maybe they feel like there's no option, or they are limited in their choice, other than the 'classic' high-street estate agents – I don't think the majority of those have the understanding of what these people have created, or how to communicate that to buyers."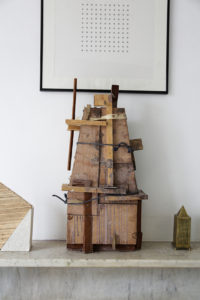 And what of buyers? How do they access their creative side in the midst of the chaotic housing market? "The first question I would ask somebody is 'why are you moving?'" says McDavid. "It's understanding that motivation in the first instance that then allows you to make other decisions. Lots of people don't give themselves the time to consider it, they just think 'oh, I've got to move!' Why? Then make your decisions off the back of that.
"You may very well end up finding something that's nothing like what you were originally looking for, in a totally different location, and then what will happen is you'll post-rationalise the location. 'Can I still get in to work in X amount of time? Can I still see my friends?' and so on. By adhering to those early rules you set yourself, I think you're doing yourself an injustice, because you may miss out on something really special."
Aucoot's website has a section called "The Journal" which periodically hosts pieces on design classics, like the Balzac Armchair and the Bialetti espresso maker. McDavid has advice for those looking to decorate with similar flair.
"If you want to be inspired by the place where you're living, you have to look deeper than a Pinterest board. Pinterest boards are great for inspiration as are magazines, but if you really want to create something inspirational, you have to think back to periods of your life where you felt that way. Then you're using that as a basis for how you decorate your home. So it might be a place in nature, a city that you've been to – that kind of thing."
Hackney is well on the agenda for Aucoot, with a minimalist-inspired ground floor flat in N16 (see above) just sold.
"I've just got a few places for sale in Hackney, and I think that's to do with the mindset of the people in Hackney – to use a Californian phrase, they're early adopters, they're not afraid to try new things."