PEARL Hackney Wick, restaurant review: 'an upstart in a changing neighbourhood'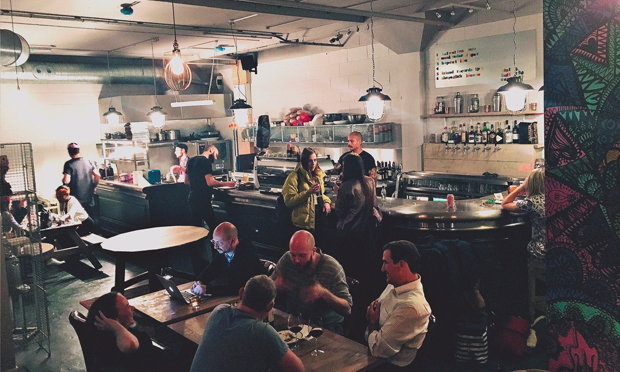 When longstanding Hackney Wick haunt Hackney Pearl closed suddenly some months ago, it was a shock to longstanding locals in this "buzzy", rapidly gentrifying corner of town. The space sat unused and desolate, just feet from the station.
Now a new venture, PEARL Hackney Wick, has opened in its place, and since December has been campaigning to win over locals with a friendly, DIY atmosphere, great food and sheer force of will.
Less colourful and more industrial than its predecessor, PEARL has retained some of the same coziness, as well as a working model of coffeehouse-by-day/restaurant-and-bar-by-night – attractive to the freelancer crowd.
The bar is dominated by a huge, gleaming espresso machine. Owner Alex Childs, former hairdresser and now restaurateur, is gregarious and highly caffeinated, and a cheerful fixture behind the counter, ready to chat. He and the kitchen team give the space a personal feel with no whiff of PR backing.
As for drinks, there is a small selection of decent craft beer. In the first week the wine list was practically non-existent (two reds on the counter), and at subsequent visits we were not drinking, but Alex had plans to build it up.
Service is invariably friendly, but a little disorganised: food needs to be ordered at the bar but this isn't as straightforward as it could be, despite there being enough people on staff.
This minor inconvenience, however, are well worth bearing, because the food is great. Richard Sandiford, who is a former head chef at Hawksmoor, now runs Rockadollar, a pop up food outfit that is at PEARL seven days a week.At other venues Rockadollar serves poshed-up street food, but here there is a full dinner menu. Organised into small and large plates at the fixed price of £5 or £10, and a range of sides at around £3, two diners could happily share 3 or 4 small plates and find this to be substantial meal, although we've invariably treated it as a starter/main situation and as a result have overindulged every time. Menus change daily.
The first time we visited we had slow cooked pork spare ribs, which were outstanding: the meat fell apart with the touch of a fork and was streaked with hunks of delicious melting fat, bathed in a delicious sweet and savoury sauce. (This dish was so good that it led very shortly to a second visit the same week. The sauce/spice rub was different on the second occasion, but the ribs were just as good.)
We followed with pan fried squid with fennel (which was tender, rather than a horrid leathery texture) then shared the Palestinian chicken, a mountain of slow roasted chicken with za'atar, yogurt and other toppings enveloped in a wrap. Richard insisted that we try the deep-fried sweetbreads as well.
Offal had not been a huge hit with the other diners, which is a shame, as sweetbreads are more accessible than kidney or liver by a far margin: after all, anything you bread and fry properly will taste good, especially with a decent dipping sauce. Such was the case for these rich, rich sweetbreads.
On another occasion we sampled the baba ganoush: served deconstructed as a plate of aubergine cubes, with fresh herbs and olive oil, inside a hollowed aubergine. Other dishes were good but not as stunning as the previous ones: the burger with fermented chilli, while good, did not taste strongly of the flavourings that might have set it apart. A seared duck breast was nice but slightly overdone (I had requested it rare), and the steak tartare, again, was good but maybe betrayed by the high bar set by some of the other small plates.
For all the meatiness, there are good veggie options: a creamy butternut squash soup with a spiced oil; a vegetable, breadcrumb and Roquefort gratin.
On our third visit, we refrained from stuffing ourselves with small plates so we could try the pudding, which on this occasion was a vanilla and peanut butter cheesecake. It was so good that we ate in silent reverence.
It took me multiple searches to find the new PEARL's Facebook page and Twitter, the erstwhile Hackney Pearl always topping the search results. As a small upstart in a changing neighbourhood, I certainly want them to stick around.