'How to bring to life a totally unknown cook?'
New Art of Cookery is a thundering good read. Start at the beginning with Vicky Hayward's introduction then let yourself be carried on by her vivid narrative.
Juan Altamiras was just a pen-name on a title page until Hayward brought him to life, and now, after years of research, talking to cooks and friars, archivists and historians, shop-keepers and market people, and then getting to work in her own kitchen, she introduces us to a quirky and warm-hearted individual and his inspired cooking.
His text is almost untranslatable, with its vernacular and obsolete expressions, deploying familiar culinary terms along with procedures we no longer use, interspersed with sometimes baffling little jokes.
It takes the skills of an investigative journalist, the insights of a novelist and the intuitions of a good cook to unravel the narrative and explain the gastronomy.
Hayward does this by following Altamiras's text as he published it. First the title of the recipe, and her version of this title, followed by a straight translation of the text of the recipe, then her comments on the background or contents, and finally her version of the recipe, often with input from chefs and home cooks.
Thus the story of Altamiras unfolds, as landscapes, place names, ingredients, and cooking methods in the recipes yield clues, eventually revealing the author as Raimondo Gómez, a Franciscan friar in La Almunia, in the south west of Aragon.
I remember discussing with Vicky some years ago the challenges of finding a voice for the personality behind the recipes, how colloquial or quirky dare one be in a translation, and how a word by word, phrase by phrase version is not always an accurate rendering.
We thought of the translations of Scappi and Platina and Martino by distinguished academics, and wept gently at the lack of down-to-earth kitchen knowledge and experience. Spit-roasting over a fire, rather than before or in front of it; confusing bacon, cured back fat, dripping and lard; or muddling technical terms, slicing, dicing or chopping.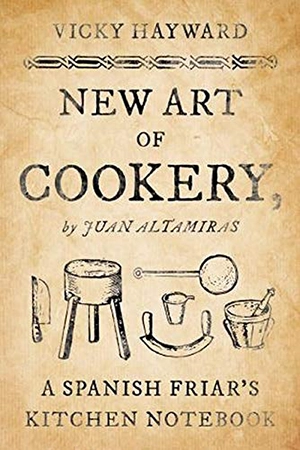 How to bring to life a totally unknown cook? Wiser heads than mine suggested that Vicky go straight to primary sources, and also talk to Franciscan friars.
The result is a brilliant breakthrough in understanding the background to Altamiras's cooking and his approach to food. He was a hands-on but also literate cook, providing a comforting and sustaining diet for his mendicant order of Franciscan friars.
Altamiras was cooking in an everyday way, his use of local ingredients both traditional and innovative.
Aristocratic French cuisine was predominant in courtly households in 18th-century Spain, but hardly appropriate for friars and the rest of us, so Altamiras's frugal but tasty cooking was neither elitist, nor cocina pobre, but modest food for those of modest means.
He was clever enough to take what he wanted from the conventions of French cookery and shake them by the scruff of the neck to get his own versions.
Altamiras would have been delighted with the way young chefs are doing this today with recipes of his fed to them by Hayward. Their imaginative use of very few ingredients and seasonings is refreshing and not a bit quaint or pseudo-historical.
There are over a dozen recipes for salt cod, abadejo, which he calls da poco sostantia, meaning a lowly or insignificant ingredient, and one he used a lot, being cheap and plentiful.
Try the one where soaked and softened salt cod is simmered a short time in a mixture of olive oil, garlic, tomato, orange and parsley, seasoned with saffron and crushed black peppercorns. It is simple and superb. Now we are in the thick of marmalade time and Seville oranges abound, try this recipe with some thin slices of bitter orange, peel, pith and all.
Partridges stuffed with salted sardines or anchovies and pot-roasted with tomatoes, seasoned with black pepper and parsley, are delicious.
His lamb stews are never ordinary, started off with chopped onion sweated in diced ham fat, braised slowly then simmered with a little water, and finished with masses of chopped parsley, mint and dark green lettuce leaves, and served with a sprinkling of spices and some lime or bitter orange juice.
When the church ordained that so many days in the year were meat-free, and often dairy- and fish-free as well, for all of society, vegetables needed to be healthy as well as tasty. Altamiras enjoyed cooking them in ways that we now recognise as nutritionally well-balanced, with flavour bursts of umami, and lavish use of what for him were two cheap and plentiful local ingredients – rich fruity olive oil and saffron.
Pulses, green vegetables, roots, gourds, onions and garlic, herbs and seeds, and moderate amounts of spices, are all used imaginatively, and artichokes, cheap and versatile, have many recipes.
A cook's instincts may reveal untold stories, says Hayward as she pulls together threads from Altamiras's culinary past, with its roots in Medieval and Arab cuisine, and our own future, with its gastrophysics and oral referrals, to spin a yarn, in every sense of the phrase, that we can only put down to escape into the kitchen, and enjoy this careful, funny, delicious cooking.
***
'Escocesa' seems a funny name for a tapas bar, but it flourishes on the urban or rather maritime myth that the best of Scottish fish and shellfish is snapped up before it leaves the boats by discriminating clients in Europe.
The founder of theis Stoke Newington restaurant has succeded in intercepting some of these treasures, and thus the citizens of Hackney can enjoy superb oysters, prawns scallops, amazing vegetable dishes, in a small welcoming place tucked away on Church Street.
You'd have to be bonkers or a genius to replicate this sort of local success story in these hard times, like Maresco on Berwick Street in Soho, but Stephen Lironi is not bonkers, and is cooking very much in the spirit of the brilliant 18th-century friar, Altamiras, whose recipes, as Vicky Hayward has shown, have something of the imagination and down-to-earth simplicity.
New Art of Cookery: A Spanish Friar's Kitchen Notebook by Juan Altamiras by Vicky Hayward is published by Rowman & Littlefield, ISBN: 9781442279414.