Fast food couriers stage Town Hall protest as they fight for better parking near Dalston McDonald's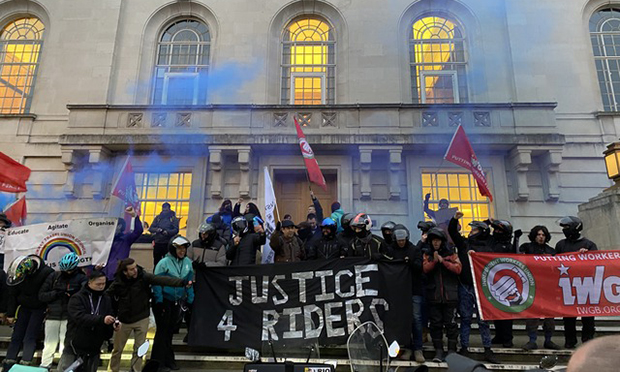 Fast food couriers have taken their protests over a suitable spot to wait for orders in Dalston to the Town Hall.
The drivers were told last year that they could not park in Ashwin Street, round the corner from McDonald's, to pick up meals.
Around 30 couriers regularly collect food from the restaurant to deliver to customers around Hackney.
They were also racking up £65 parking tickets, which they say hit them hard.
They had asked if they could wait in the gated private car park behind the fast food restaurant.
McDonald's said it did not own or rent the yard so it could not allow the couriers to use it. The company said the area is used for deliveries so it would be a health and safety risk if the drivers were there.
Hackney Council told them to park in Bentley Road car park instead.
Members of the IWGB union staged two boycotts of deliveries last autumn to draw attention to the drivers' concerns.
At their latest protest this week outside Hackney Town Hall, they renewed calls for a shelter and toilet at the car park.
Courier Wagner has been delivering fast food meals for three years.
The father-of-two said: "Drivers could get charged £65 once or maybe twice a day. You can earn £80 a day, so it eats into your money.
"We have been delivering food for people and doing a good job during the pandemic. We have to work to buy food for our families."
He explained couriers need somewhere safe they can wait: "There is no shelter and no security."
He added: "We are not criminals, we just want to work."
McDonald's said: "We've been working closely with our delivery partners, Hackney Council and local police to find a solution to the problem and we support the decision to offer couriers the free use of Bentley Road Car Park as an alternative waiting area."
A spokeswoman for the firm added: "We believe this solution would protect and respect the rights of local residents and address their concerns, whilst also protecting couriers and local businesses.
"As ever, couriers collecting food from McDonald's are welcome to use our customer toilets and facilities, and we have offered to work with the council to help provide shelter for couriers at the proposed waiting area."
Cllr Susan Fajana-Thomas, cabinet nember for community safety, said: "We fully support couriers in seeking better working conditions. The council has long-campaigned for better regulation of this 'gig economy'.
"And I'm also grateful to drivers for their work during the pandemic, and the whole council considers them key workers who have put themselves at risk to serve others."
She added there had been complaints about drivers gathering at Ashwin Street.
"The growth of delivery apps has put significant pressure on public spaces, like Ashwin Street," she explained.
"Large numbers of couriers gather here, and the council has received numerous complaints about them, ranging from noise nuisance and public urination, to much more worrying and illegal behaviour, such as violence and street-based sexual harassment.
"These issues are totally unacceptable, and our enforcement officers have received abuse and harassment when dealing with this on behalf of the public."
Cllr Fajana-Thomas said it was not the council's job to provide facilities "to help large-scale private companies get more business".
She added: "We cannot solve this issue alone but we have gone above and beyond to support couriers, including offering parking 200 metres from the area, covered by CCTV, at which we have waived parking fees until the end of March.
"We're also looking to build a shelter here to protect couriers from bad weather, and have asked delivery platforms to improve their geo-mapping to enable couriers to pick up more jobs from the location."