Hackney Stand Up To Racism event raises almost £1,000 for refugee charity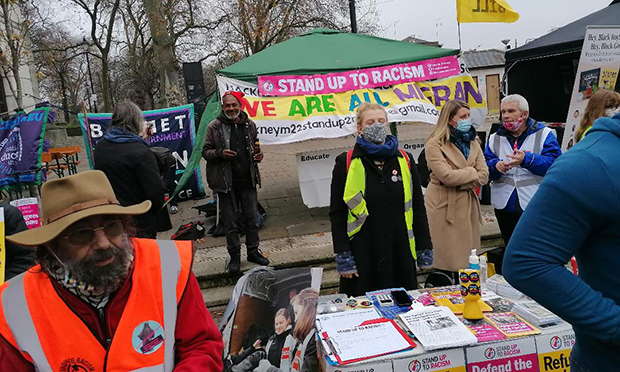 Hackney Stand Up To Racism (HSUTR) raised close to £1,000 for refugee charity Care4Calais at its annual community fundraiser last week.
The group held the event outside on the Narrow Way in Hackney Central amid concerns over the rapid spread of the Omicron variant.
It took place from midday until 2pm on 18 December, and began with a minute's silence to remember the 27 people who drowned while attempting to cross the Channel in November.
The get-together also featured live music, speeches, and readings by local poets, including Wendy Pettifer, who has written several pieces about the asylum-seeker experience.
In total, the event raised £956.38.
It was chaired by Hackney branch secretary of the National Education Union (NEU) Dave Davies, who told the crowd: "Hackney NEU especially is very proud to support the organisations that are behind this event today: Care4Calais and Stand Up To Racism.
"Governments around the world have been turning their backs on refugees and migrants and making it more and more impossible for them to come here safely. That is something we are here to protest about today."
He continued: "For those people who say migration is the problem for us, they just need to look at Hackney and see how much it has enriched our lives, whether it be the Windrush generation or the Turkish and Kurdish community. I think it's something that we all welcome."
Care4Calais is a volunteer-run charity working with refugees in the UK, France and Belgium, and delivering emergency aid to areas affected by the European migrant crisis.
Founded in 2015, the charity provides clothing, bedding, food and medical assistance to asylum seekers in need, as well as social support such as language lessons and sports and music workshops.
You can donate to Care4Calais here.