'Take Omicron seriously', top doctor warns Hackney residents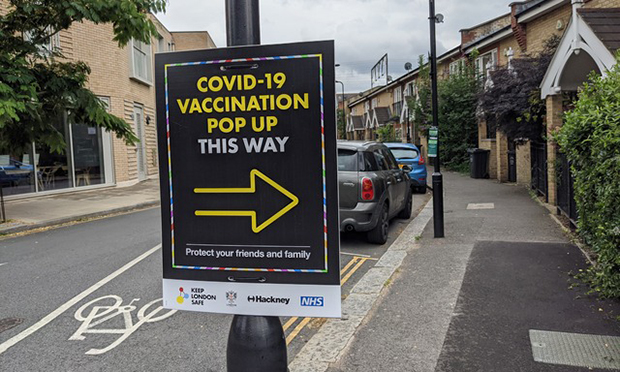 A top doctor in Hackney has warned people to take the Omicron variant seriously – saying it will claim more lives and hospitalise others if a large number contracts it.
GP Mark Rickets urged people to get their vaccines and booster and follow the key preventative steps of mask-wearing, keeping a distance and frequent, thorough hand-washing.
Dr Rickets, from the Nightingale Medical Centre, said: "We do not know enough about the severity of the new Omicron variant at this stage, but we do know that it is highly transmissible and that we will therefore see the number of hospitalisations and deaths continue to rise if a large enough percentage of the population contracts it."
Rickets, clinical chair for City and Hackney at the North East London Clinical Commissioning Group, said it could hit other services.
He added: "We don't want to be in the position of having to cancel planned surgery and other procedures due to staff shortages, or a shortage of available hospital beds."
He said the warnings of pressures are very real: "This is an incredibly challenging time for NHS staff and one of the busiest and most high-pressure environments I have worked in."
Homerton Hospital is seeing an increase in patients – with 43 per cent more in the week ending 7 December than the previous week.
This meant doctors and nursing staff were caring for five seriously ill patients on ventilators and 18 other patients with Covid. The previous week there were four people on ventilators, with 12 others suffering from the virus.
More than eight out of ten Covid patients in intensive care in north-east London are unvaccinated, according to the Homerton.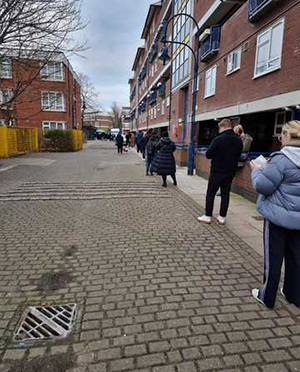 Dr Rickets said: "The link between hospitalisation and death has been significantly weakened thanks to the Covid vaccinations, but we are now seeing a rapid increase in the number of Covid cases across the country, including an uptick in hospital admissions."
He said it was essential to take action to stop Omicron spreading: "I would urge all Hackney residents to take up the offer of an initial covid or booster vaccination if they are eligible.
"And remember – hands, face, space and ventilation – wash your hands regularly and for longer than 20 seconds or use hand sanitiser gel, wear a face covering indoors, keep socially distanced and meet others in well ventilated places."
There are still 100,000 unvaccinated people in Hackney – with the lowest rate in Springfield where just 47 per cent of residents have had the first jab.
Across the borough, 184,378 people have had one vaccine, 166,827 have had two and just 50,018 have had a third jab, if eligible, or the booster.
However, the mass effort to get people vaccinated has seen queues across Hackney, with 2,400 people getting jabs this weekend, including boosters given to 385 housebound residents, according to Hackney GP Tehseen Khan, who is also clinical advisor to London's vaccine programme.
The race to vaccinate comes as London Mayor Sadiq Khan declared an emergency in the capital, meaning extra steps are needed because of the rising number of cases.
The move, last declared in January 2021, also points to the extra pressure the emergency services are under.
Dr Rickets urged people to be cautious: "If you want to protect the NHS over the Christmas period, please don't turn up at your GP practice or at an Emergency Department (A&E) if you have Covid symptoms.
"If you do not have any symptoms, you should be regularly taking lateral flow tests as set out in the new government guidance, but if you have any symptoms – a dry persistent cough, a fever, a change to your sense of taste or smell, or are worried about other new symptoms – you should immediately self-isolate and take a PCR test."
He added: "The NHS is still here for you this winter – your pharmacist can treat mild conditions, your GP will be available for appointments by telephone, online or face-to-face – depending on the nature of the problem, you can dial 111 for urgent medical advice and referrals to urgent clinics, and you can dial 999 in case of a life-threatening emergency."