Exeunt – The Stage Door Project, Lloyd McDonagh and Salvatore Scarpa, book review: 'Oblique yet poignant angle on thespian life'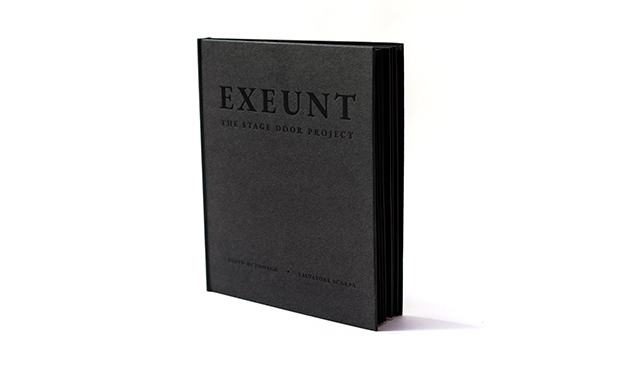 As London's theatres were just getting back on their feet, they've now been cruelly crushed anew by Omnicron.
Stages across the world have been particularly hard hit by Covid-19; not only does the preparation of productions involve close social interaction, but indoor theatres need to pack in the crowds for the plays they put on to be commercially viable.
As a result, shows have been cancelled by the droves following outbreaks among actors, and audiences have become markedly sparser.
Not to be daunted by this calamitous situation, actors by Lloyd McDonagh and Salvatore Scarpa have turned their creative energies to photography and the written word to document the impact the pandemic has had on West End theatres.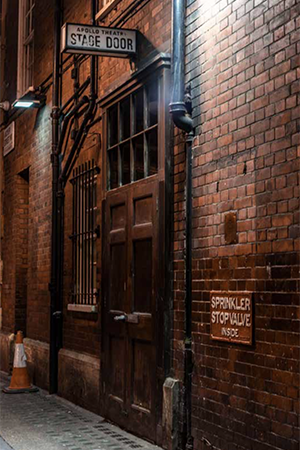 The collection of images drawn together in the duo's volume Exeunt – The Stage Door Project documents the emptiness that has tracked so many venues over the past 20 months, but also the haunting allure of the buildings themselves.
As the project is intended to help get actors and acting back on their feet, half the proceeds will go to charities that support the theatre industry such as The Theatre Artists Fund and Actors' Benevolent Fund.
The handsome coffee-table book, brought out by local publisher Renard Press, provides an oblique yet poignant angle on thespian life.
McDonagh and Scarpa's photos display the seemingly mundane portals that actors traverse as they morph from coffee-swilling, smartphone-tapping people like you and me to mythical characters who take us to another place.
Stage doors possess an intimacy that is familiar to all actors, and the book has contributions by 92 of the industry's professionals, including superstars such as Dame Judi Dench, Michael Sheen, Emma Rice, Simon Callow and Reece Shearsmith, that detail their experiences of the literal back-of-house side of theatre.
As the new title hit the shelves, the Hackney Citizen caught up with McDonagh and Scarpa to explore their thoughts on the pandemic.
HC: Do you think London theatre will be permanently changed by the pandemic?
LM & SS: It has been quite emotional seeing theatres slowly open up again over the past six months of heartache. We are reluctant to say 'We're back' as restrictions return. It seems like Covid will have more variations than the number of ghosts in A Christmas Carol. We're trying not to be too Scrooge about it though.
The pandemic has changed the way we've been able to experience theatre and the way that we will enjoy it in the future.
Since March 2020, we've seen the industry successfully adapt and transition to streaming and online performances. This is great in some ways because it has made theatre more accessible to those who weren't able to visit as frequently as others, however, you can't beat the feeling or the atmosphere of being in a theatre and enjoying a live performance.
We hope the professionals that keep the theatres going will continue to strive, even with dark times looming ahead once more. We hope to never see the theatres shut again like they were when we took the photographs.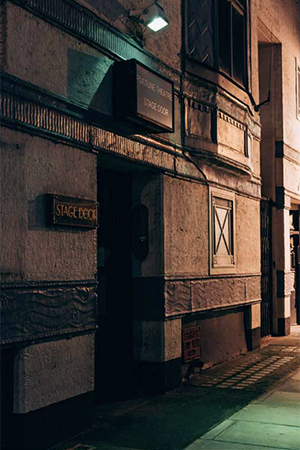 HC: In the medium term, the West End tourist trade can be expected to be down; could this spur theatres to stage more creative and ambitious productions?
LM & SS: It has been great to see audiences flock back to the theatres with great enthusiasm, but of course, the huge presence that tourism plays in the theatre industry will leave a gap while things settle in a more predictable and manageable way.
We both think that the industry has been incredibly courageous, flexible and ambitious. This re-birth out of a dark time can only spur artists to continue to create bold and outstanding work. We can't wait to see and be involved in what happens next!
HC: Are online productions a viable substitute for live theatre?
LM & SS: As mentioned above, it has certainly opened up a more accessible way of experiencing theatre for those who can't always attend live performances.
The National Theatre and The Old Vic seem to have mastered the art of capturing and streaming performances through their online platforms NTLive and Old Vic: IN CAMERA.
We think it's here to stay, and inevitably it will breed a new style of theatre performance that will establish itself alongside the live performances we know and love.
HC: When will a great play be written about Covid-19? Who will write it?
LM & SS: The amazing this is, they're already being written and performed. Each of us had a different experience and relationship to the way the pandemic changed our lives. It brings us all together to share stories and gives us an opportunity to bond over the hobbies and trends we participated in during the lockdowns. Everything from timed daily walks to weekly quizzes, knitting socks for their dogs to turning into a podcast host.
LM: However, we've still are yet to find someone who shaved their head as many times as Salv…
SS: Or propagated as many plants as Lloyd… So many were inspired by their experiences through the pandemic to stay creative and find a way of keeping their talents alive. David Hare is the first that comes to mind, with his monologue about Covid-19 performed by Ralph Fiennes at The Bridge Theatre.
Exeunt – The Stage Door Project by Lloyd McDonagh and Salvatore Scarpa is published by Renard Press, ISBN: 978-1-913724-75-7; RRP: £25.