Winter Toy Appeal 2021: Organisers expect record demand amid 'perfect storm' for struggling families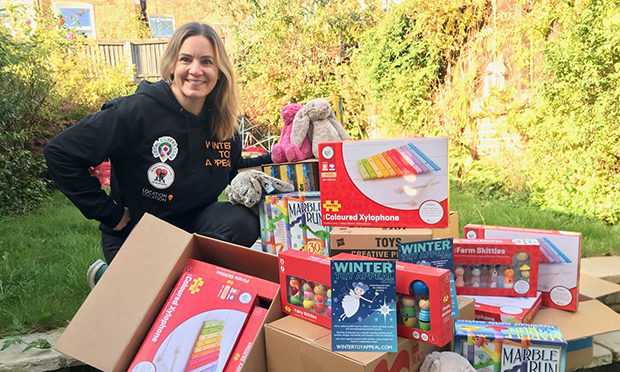 The annual Winter Toy Appeal is back for the eighth consecutive year – with organisers bracing themselves for higher demand than ever.
The appeal, run by discount card firm Local Buyers Club, distributes new toys to thousands of children experiencing extreme poverty.
Founder Jenna Fansa said: "It feels like the perfect storm this year – we're expecting more referrals than ever as families struggle with rising fuel and food costs, cuts to Universal Credit and an end to furlough.
"And traders are experiencing supply issues due to a shortage of HGV drivers and a backlog of shipping containers – so we need to be more organised than ever."
Supporters can order through toy appeal wish lists, which deliver straight to partner agencies, or donate money to the appeal's Go Fund Me page – spent solely in independent stores.  
The toy appeal is sponsored by Location Location estate agency, and this year offers a wish list with independent shop Stoke Newington Toys & Books.
Volunteers from E5 Babybank will be helping the Local Buyers Club team hand out the toys through children's centres, schools, hostels, refuges, migrant centres, and more.
Fansa added: "We are pleading with the community to buy a gift for a child experiencing hardship this year so that every child has something special on Christmas morning, and we need them to order as soon as possible. 
"We'd also love support from companies and would love them to circulate the appeal with colleagues and hold fundraisers for us."
Last year's appeal provided new toys for more than 5,600 children in poverty and generated more than £25,000 of trade with independent shops in Hackney and Haringey. 
Almost 24,000 children have received a gift through the appeal since it launched in 2014 – predominantly in Hackney, Islington, Haringey and Tower Hamlets.
The Local Buyers Club is donating £5 to the Winter Toy Appeal for every new member who joins for half price using the code TOYAPPEALFIVE (the usual price is £12 per year).
For more information, head to localbuyersclub.com/winter-toy-appeal.