'No more blah, blah, blah': Campaigners renew demands for Hackney's pension fund to divest from fossil fuels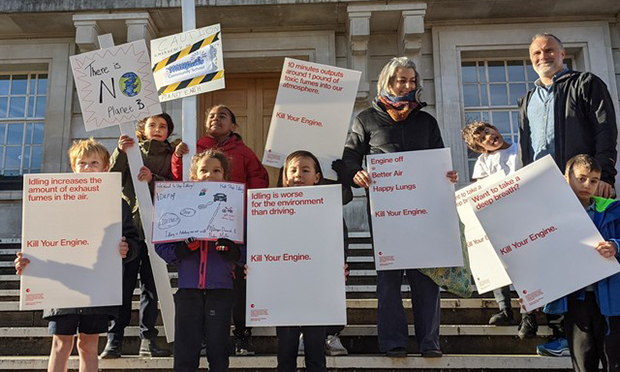 Campaigners are renewing calls for Hackney Council's pension fund to stop investing millions of pounds in fossil fuel companies.
Residents gathered outside the Town Hall last week to press the council to take swifter action on divestment because of the climate emergency.
The pension fund was worth £1.8 billion at the last valuation in June, an increase from the previous valuation of £1.5bn. Investment returns are up 24 per cent since March 2019, despite the pandemic.
The protest came ahead of a march last Saturday involving Hackney Climate Coalition from Shoreditch to the Bank of England, where they met up with others from the COP26 coalition of environmental campaigners for a rally at Trafalgar Square.
Hackney Council invests money on behalf of the 6,956 past and present employees who are signed up to the pension scheme.
Kathryn Johnson from Sustainable Hackney said: "We have to fight for our democracy and what is happening with pension funds."
In 2016, the Town Hall pensions committee set the target to cut investments in fossil fuels by 50 per cent by 2022.
It said it is confident of meeting or exceeding that target as it is now about 60 per cent of the way there.
Richard Payne, who chairs Sustainable Hackney, said the council's commitment to divest by half over six years "is a very long period of time", adding: "That is capital that is going to be used for exploitation of other resources."
Payne urged Hackney to follow in the footsteps of Islington, Lambeth and Southwark councils and fully divest from fossil fuels.
He said: "People are wise to fossil fuels and are investing in renewables."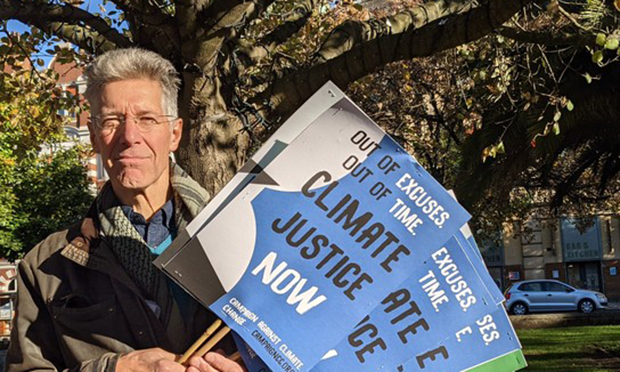 Luke Daniels from Caribbean Labour Solidarity told residents: "It's appalling that the global south does not have the voice it deserves."
He called on councils to look closely at their investments.
Dean Ryan of Hackney Stand Up To Racism said: "We're fighting for a world for our children's children's children, to make sure we keep them safe. We have to tell politicians, 'No more blah, blah, blah'."
Zoe Garbett, Hackney Green's mayoral candidate said she wanted to see more urgent action from council leaders.
The council said it has cut, or divested, some of its holdings in oil, coal and other fossil fuel companies from £42m in 2015 to £35m last year.
Overall, the fund was showing a £123m surplus in June this year, according to a pensions committee report.
Cllr Rob Chapman, the cabinet member for finance and the pensions committee chair, said: "The target was aimed at addressing the threat of climate change, and the risks that this posed to our pension investment portfolio."
Cllr Chapman added that moves by investors are influencing companies: "We should also not underestimate the effect of changes in the behaviour of companies influenced through engagement.
"Hackney's pension fund is an active member of the Local Authority Investment Fund Forum, which is an umbrella body representing most of Britain's local authority pension funds, which collectively manage approximately £300 billion in investments.
"We believe that engagement with companies on climate change and other environmental, social, and governance issues is a top priority and a key accountability for both the council and the fund."
More than 2,000 people signed Divest Hackney's petition urging the council to end its investments in fossil fuels.
The council said it is taking "a risk-based approach with fund managers, understanding that climate change has huge financial consequences".
The pensions committee is reviewing its climate change target, which includes listening to evidence from risk investment experts and Divest Hackney. It is expected to approve a new climate change target next March.