The house of Medici and its fascination with pear paintings
Mae West could endow the most banal and innocuous remark with lascivious undertones – "I have some very definite pear-shaped ideas".
This particular comment was scripted, not spoken, by West in My Little Chickadee but leaves us forever wondering how a beautiful fruit can be used to convey so much innuendo.
A meltingly juicy pear will never be the same again. But a sense of failure and incompetence lingers in the expression, as well as other attributes. That was 1940.
Going back further in time, such unkind attributes were still present in the 19th century. Works such as Charles Philipon's Les Poires, created during France's July Monarchy, show that pears were the fruit of choice for less than favourable caricatures.
Much earlier, however, during the Medici rule, pears were the subject of beautiful paintings.
The artist Giovanna Garzoni was commissioned by the Medici rulers of Florence to celebrate in paintings, still lifes and portraits, paint products of Tuscany.
This dish of pears seems almost alive, with waving stems and insects greedily hovering over the dribbles of ripe juice as the pears reach those few moments of perfection.
Unfettered by husband and kids and confident in her skills, Garzoni in her prime could name her fees and travel where she wished to deploy them.
From Milan to Sicily, England to France, ending up in Rome, wealthy, renowned and an honorary member of the Guild of St Luke.
Bartolomeo Bimbi was another brilliant young painter employed by the Medici family to record their achievements in agriculture.
His panoramic group portrait gives an idea of some of the pears reared, grafted and cherished in the gardens of their villas outside Florence.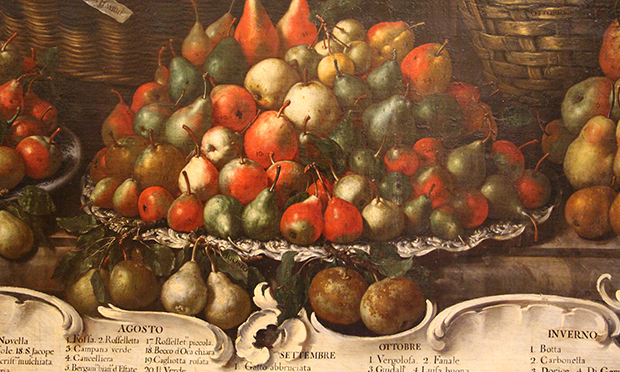 Bimbi's work was not just show-off stuff however, his accuracy in depicting these life-sized fruit was actually more help to visiting botanists and gardeners than the printed books in circulation.
This huge range of pears is a corrective to elitist blather about perfect moments. When supermarkets are trying to sell beautiful rock-hard fruit, bred to look bonny, but low on flavour, which go bad before any hope of ripening, pears need all the help they can get.
Simmer an obdurate William in red wine and honey until soft, coated with a fragrant gloopy sauce, or roast with jointed guinea fowl, cinnamon and garlic to bring out the fragrance.
If we can thus make a 'sad' pear happy, next month we will try to meet the challenge of tasteless, leftover pumpkins.