Major artwork inspired by an encounter in Dalston acquired by V&A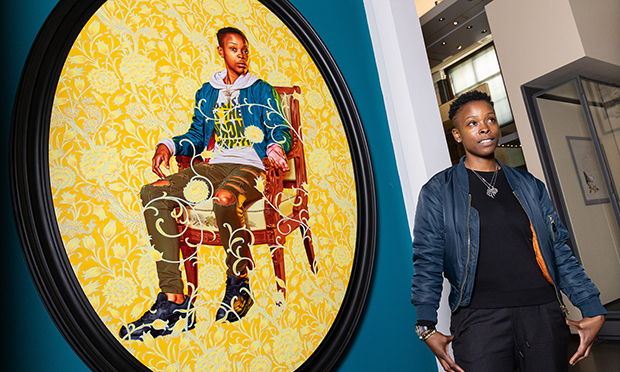 An acclaimed portrait by Nigerian-American artist Kehinde Wiley went on display last week at the V&A's British Galleries – and will later go on permanent display in East London.
The major acquisition took place in June 2021, after the portrait was exhibited at William Morris Gallery, Walthamstow, in 2020.
The colossal oil painting, Portrait of Melissa Thompson (2020), stands at two metres tall and depicts Melissa Thompson, a young woman whom the artist met at Dalston's vibrant Ridley Road Market in 2019.
Thompson said: "It was such a surreal moment when Kehinde Wiley approached me at Ridley Road Market and asked to take my portrait – I never thought I would end up in a museum! 
"His work is so unique and powerful, it was a really life-changing thing for me.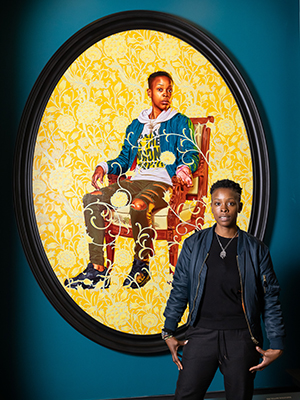 "I love this portrait – it captures a moment in time. Seeing it on the wall at the V&A feels really special – I can now see parts of my own culture and East London represented in a museum."
Wiley's painting went on display at the South Kensington gallery on 4 October, and will remain in the V&A's William Morris Room (gallery 125) until 2024, alongside the William Morris-designed wallpaper that inspired the portrait's floral backdrop.
It will then move to its permanent home: the V&A East Museum in Queen Elizabeth Park, Stratford, set to open in 2025.
The portrait forms part of Wiley's series The Yellow Wallpaper, a visual response to the 1892 novel of the same name by American author Charlotte Perkins Gilman.
A seminal work of feminist literature, Perkins Gilman's semi-autobiographical work details a woman's descent into madness. Among the literary and psychology communities it is credited as an early piece to draw attention to women's mental health, a previously under-researched area of psychology.
"[The novel is] a work of literary fiction that explores femininity and insanity by stepping upon the contours of what social decorum and societal mores are composed of," Wiley explained.
"Madness becomes a metaphor for freedom and self-realisation."
Wiley was born in Los Angeles in 1977. Known for his naturalistic portraiture and intricate backgrounds, his work looks to subvert the traditional role of European and American portraiture as a way of depicting powerful, royal or aristocratic people, instead choosing to spotlight people he encounters on the street, and in doing so, challenging perceptions of Blackness and encouraging dialogue surrounding race, identity and representation.