Sadiq Khan warns of 'catastrophic' climate crisis facing London – with Hackney at the sharp end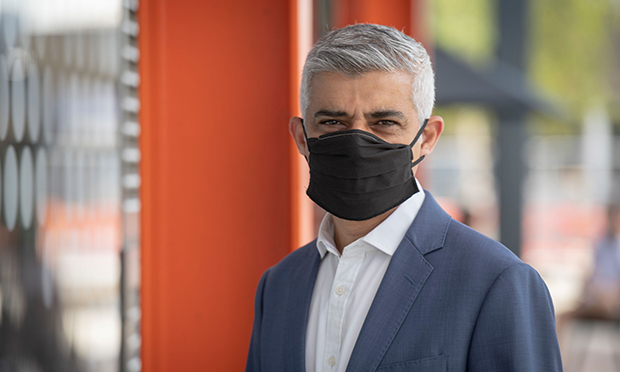 Time is running out to tackle the climate crisis, according to Sadiq Khan, with rising temperatures likely to lead to overheating Tube trains and more than 200,000 flooded homes in London.
New analysis from City Hall and Bloomberg Associates has found that six boroughs – Hackney, Hammersmith and Fulham, Islington, Brent, Tower Hamlets and Newham – are at particularly high risk of suffering the worst effects of climate change.
Following a summer that saw high temperatures and extreme flooding, the analysis has found that if such weather events continue, around 10 per cent of London's entire rail network will be at "high risk" of flooding.
Two hundred thousand homes and workplaces are already deemed at high or medium risk of surface water flooding.
While every school in London is deemed to be in an area that exceeds World Health Organisation (WHO) guidelines for air pollution, the City Hall analysis found that one in five schools, and nearly half of all hospitals in the capital, could be a risk of flooding in the near future.
Ahead of the COP26 climate summit in November, the Mayor of London yesterday delivered a keynote speech at the Barbican Centre where he launched a city-wide campaign to inspire all Londoners, including businesses, to take "bold action" on climate change.
Khan said: "In the year of COP26, a new environment bill and new targets set by the WHO for toxic air, London is at a crossroads. We either take bold action now or face the consequences – with catastrophic impacts on our environment, the air we breathe and the climate.
"I'm determined for London to be a world leader in tackling the twin dangers of air pollution and the climate emergency so that we can deliver a brighter future for London – one that's greener, fairer and more prosperous for everyone.
"But I can't do it all alone. That's why I'm launching my city-wide campaign to inspire all Londoners – individuals, businesses and communities – to take action. I also want to work with the government to unlock the powers and funding needed to meet our targets, which will help deliver national targets too."
Hackney Mayor Philip Glanville, who is chair of London Councils' transport and environment committee, added: "As the Mayor of London warns, the climate emergency is already having a damaging impact on Londoners across the capital – the recent flooding this summer was the latest example of this and sadly won't be the last.
"London boroughs are determined to play a leading role in reducing our city's carbon emissions to net zero, and alongside individual action plans, London Councils has established an ambitious programme of work around seven key themes. But in order to succeed, we need national Government, our residents, businesses and wider partners across the capital to be part of the solution.
"We must all act now to safeguard the future of our environment, and that means transforming London into a low-carbon city that is more green, equal, healthy and resilient."
Next month will see the expansion of the Ultra-Low Emission Zone (ULEZ) to the north and south circular roads, which Khan has called "the boldest action of any city" on climate change.
City Hall has estimated that the existing central ULEZ has led to an almost 30 per cent reduction in NO2 emissions within the zone.
But Khan has been accused of "hypocrisy" on his climate credentials over his plans to push ahead with the Silvertown Tunnel.
The new four-lane motorway will run under the Thames, connecting Lewisham and Newham, one of the boroughs identified as being at high risk of flooding and soaring temperatures, and with some of the worst air quality in the UK.
Protesters are today holding a "Greta Thunberg-inspired" school climate strike, with parents, teachers and unions set to join schoolchildren at the sites of both tunnel entrances to call for the project to be scrapped.
Kate Middleton, a spokesperson for the Stop The Silvertown Tunnel Coalition, said: "The campaign to stop this climate-busting mega-highway from being built is broadening as school students, their parents and teachers now realise that they have the most to lose from this tunnel.
"Thousands of heavy-duty vehicles will drive by their schools along the tunnel's feeder roads every day, spreading the most dangerous fine particulate matter into the air. This form of pollution (PM2.5) buries deep into young people's lungs, setting children up for a lifetime of lung disease – or worse.
"The London Mayor Sadiq Khan quite rightly stated this week that toxic air causes premature deaths and stunts children's lungs. Now we ask him to put those good principles into practice and cancel this highway before it's too late."