'Going to people works': Pop-up vaccine clinics coming to two Hackney estates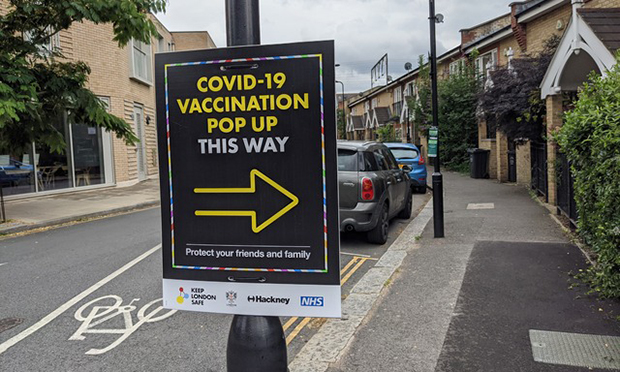 Pop-up clinics will be bringing Covid vaccines to two Hackney estates in a pilot to help boost protection from the virus.
The clinics will come to the Kingsmead and Clapton Park estates near Hackney Marshes.
If it works, more pop-up clinics will be opened in Hackney and the City of London.
According to the most recent data at 5 September, 165,842 vaccines have been delivered in Hackney, with 94,112 people still unvaccinated. Sixty-four per cent of eligible people in the borough have been vaccinated.
In the Square Mile, 7,029 jabs have been given, with 3,144 people still unvaccinated. It means there that 69 per cent of residents have been vaccinated.
Hackney has two vaccine centres at Bocking Street and the John Scott Health Centre in Green Lanes. People can also get the vaccine at pharmacies, GP surgeries and hospital hubs and vaccines have also been taken to care home residents.
According to the most recent data, the rate of Covid is 220 cases per 100,000 people, with a rate of 300 per 100,000 in Hackney Downs and Kings Park wards.
Nina Griffin from the Homerton University Hospital NHS Trust told the City and Hackney outbreak control board: "Going to people works."
She said the plan will be for "a sustained pop-up so people can learn about it and tell their friends about it".
Health workers will use the lessons from the pop-ups to help them plan similar clinics.
It follows plans to take pop-up clinics to synagogues in Hackney after rabbis requested them.
A further potential two sites have been pinpointed in the Square Mile too, Griffin said.
City councillor Randall Anderson suggested pop-ups at the Port Soken ward where vaccine rates are low.
Hackney's health chief Cllr Chris Kennedy said he has noticed at the vaccine centre where he volunteers that the number of people turning up for jabs is low.
He said: "They are painfully quiet at the moment in terms of people coming forward."
He added:  "I think that the pop-ups may be the way forward."