'Absolute outrage': Four trees to be felled in East London despite residents' battle to save them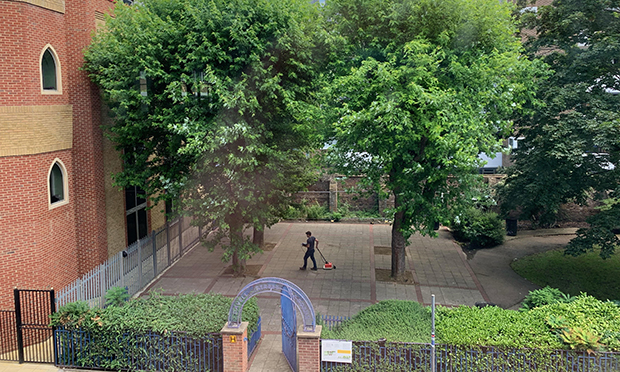 Four maple trees in East London are condemned to be cut down despite a campaign by residents to save them.
The trees, which are in a public garden in Whitechapel, will make way for a plastic 'kickabout' area for the next-door school.
Geoffrey Juden, chairman of the East London Garden Society, said: "It's an absolute horror to replace trees with plastic."
Local residents commissioned their own ecology report on the four trees in Cavell Street Gardens. It found they are un-diseased and therefore ineligible for felling – at odds with Tower Hamlets Council's ecology report, which judged them to be diseased.
After the contradictory findings, the council has given 'improving sight-lines' as a new reason for the felling.
But Juden said: "That's ridiculous. There is just a building beyond the trees. If you take these trees down all you will see is the building."
Juden claims the consultation with residents about the plans was too selective, adding: "Only certain people in certain buildings could be involved. It was an absolute outrage."
A spokesperson for Tower Hamlets Council said: "Multiple consultations, focus groups and interviews with local residents took place between 2018 and 2020 and before submitting the planning application for Cavell Street Gardens, our parks team discussed the proposals in partnership with the borough's arboricultural officer extensively."
Every day, each of the trees emits 60 cubic feet of oxygen into the air. The council says it plans to mitigate losing this by planting eight semi-mature trees at the site, but is yet to specify when.
The spokesperson went on: "These proposed replacement trees will enhance the biodiversity value of the gardens, as well as bring colour and diversity to the site."
But the campaign group is doubtful the trees will be planted.
Juden said: "There are 10 trees in that garden and they are putting plastic down and removing four of them. How will they place eight more trees in that area? It's impossible. There's no place along Cavell Street where they can plant the trees."
The chairman of the Green Party in Tower Hamlets, Tim Kiely, said: "I know we've got members who are campaigning hard against the over-felling and aggressive pollarding of trees, including in Cavell Gardens (where I understand a number of trees could effectively be preserved), and they have our support."
This is not the first time residents of East London have had to fight for their trees. The Happy Man Tree in Hackney was felled earlier this year despite a long and hard-fought campaign by residents.
Juden said that in the Cavell Street Gardens case, residents were lucky to know about the plans for the trees before they will be removed.
He added: "Generally speaking you only know about trees being removed once it's happened. You wake up one morning and think, 'Where have they gone?'
"[The council] sees the trees as an obstacle to progress in this area. There's more of a feeling among residents now that trees have immediate value to the community."