'Desperately sad': Campaigners mourn felling of Happy Man Tree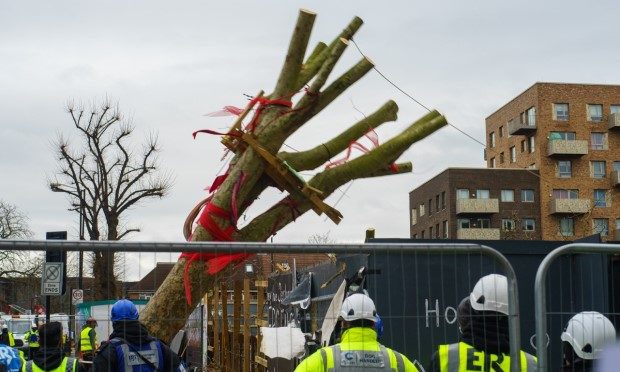 Campaigners are mourning the felling of the Happy Man Tree, which inspired commuinity protest, music, poetry as well as court injunctions and heated debate in a battle to save it from its eventual fate.
Crowds watched and cries of 'Shame' were heard this morning as people remonstrated with police guarding workers as they first cut off the tree's branches before finally bringing its trunk to the ground.
One protester was led away by officers after being arrested for breach of the peace.
Tens of thousands of people asked for the tree to be retained instead of being cut down to make way for the regeneration of the nearby estate, with developer Berkeley Homes admitting in September of last year that if they had aware of the concerns for the tree earlier, the design of the works would have been different.
Both Berkeley and the Town Hall maintained throughout the debate that to change course would be to incur a delay of at least 15 months.
Save the Happy Man Tree Peter Buckingham, who along with other campaigners was served with a High Court injunction, applied for by the council, to prevent him going near the tree, said: "It's a desperately sad moment, and just totally unneccessary. It just didn't need to happen. They could have planned for this, and respected the tree right back at the beginning when they were thinking about how many homes to put in.
"It's basically only going in because they're putting a gas energy centre behind the tree. There's no reason for it to go. It's just greedy, and for profit. There's no other way round it. They tried to put too much in the site, and an 150-year-old street tree that was in the way had to go because of it.
"It's really distressing. Neither have Berkeley Homes given any assurances on how they are going to be in the future towards other trees. Not one piece of communication has come out of them about the fact they might have made a slight error here, though one of them said that at the planning meeting.
"It's a very sad moment, so forgive me that I am slightly vitriolic about Berkeley, but it's hard not to be. I don't think we can ever know what the [Save the Happy Man Tree] campaign has achieved, but hundreds of people have been involved with this, so who knows what people think or feel about trees, the environment, or the way we approach the planet, buildings, housing issues.
"Who knows what Hackney Council feel? Again, no communication or thought about changing attitudes or thinking about consultation, so I don't know, but maybe they are."
The tree, which has been brought down to make way for 584 new homes to be built as part of the third phase of the regeneration of the nearby estate, was overwhelmingly voted Tree of the Year 2020 by the Woodland Trust, who pointed to the Happy Man as a symbol of a trend of much-loved mature trees being felled to make way for development.
Adam Cormack, head of campaigning for the Trust, said back in October: "The legacy of this tree must be that the planning system, which is currently facing overhaul in England, should protect existing trees and local voices must be listened to when decisions on local trees and woods are made.
"Trees have a huge positive impact on people's quality of life, but this needs reflecting in national planning policy and local decision-making."
Since news of the tree's loss was first reported last year, the Happy Man has became a safe outdoor spot for community members to come together during lockdown, with demonstrators of all ages sitting at its side and share stories of the community, with some climbing into its branches and others performing music, art and poetry at its base.
Hackney Mayor Philip Glanville said: "I have always acknowledged the concerns people have in Hackney around the loss of mature trees and the need for more high-quality green infrastructure. Sadly in this case, to everyone's disappointment, the removal of this much-loved tree was necessary to ensure that we can continue with our plans to deliver 584 much-needed homes – including 117 genuinely affordable homes for social rent for local families currently living in old, poor-quality homes elsewhere in Woodberry Down.
"This was a last resort and something that the developer, Berkeley Homes, alongside council officers, myself and local councillors, spent a long time working through with residents to explore every possible option to avoid.
"This was never an easy decision, however it was the only way to avoid huge delays to desperately needed new homes and a complete redesign of the project, and is supported by the local elected residents group, the Woodberry Down Community Organisation (WDCO). It was then approved on two occasions by the council's independent planning committee.
"We look forward to working with Berkeley Homes, the WDCO and the local community to provide much greater investment, including in this phase, in trees, open spaces and green infrastructure while continuing to champion the environment across the estate and Hackney."
The Town Hall has pointed out that the tree had been marked for removal for over ten years, with concerns first raised in 2019, at which time the application was paused and a series of workshops held with elected resident representatives to look at other options for design.
Campaigners themselves presented an alternative design designed by their own architects in September reproviding homes in the planned block which necessitated the tree's removal elsewhere in the estate and creating a terrace for a Happy Man cafe.
However, the workshops and meetings held by the council came to the conclusion that no alternative was possible without a project redesign and a delay to the construction of the housing, with the designs for the upcoming build signed off by a design committee made up of local residents, council officers and staff from Notting Hill Genesis and Berkeley Homes.
A Berkeley Homes spokesperson said: "Whilst it is never easy to lose a well-liked tree – following a thorough, transparent and balanced debate Berkeley, Hackney Council and the WDCO all support the local planning authority's decision to approve the development of the Phase 3 scheme and for the associated removal of the tree.

"We remain committed to ensuring that the Phase 3 benefits are delivered for the local community as quickly as possible including 584 new homes, a brand new park, the planting of 175 new trees and an energy centre to generate heat to supply the whole of the estate."
Phil Cooke, chair of WDCO said: "The aim of the WDCO is always to design good quality new homes and improve the living environment of our residents, old and new. When we became aware that the tree was due to be removed we got the partners to look at ways that it could be kept, but they all would mean a lengthy delay in the regeneration. The WDCO board considered all options at its meeting on 2 September and voted in favour 12-4 to support the Phase 3 planning application.
"There is an urgent need to build new homes for tenants that are living in old, inadequate, cold and sometimes damp properties. Many of these, mainly, elderly residents have been waiting 20 years for new homes and the proposed delay for a redesign was too long.
"Looking forward, we want to keep as many of the existing trees on the estate as possible, and make sure many more new trees are planted so that the green environment and biodiversity of the estate is the best that we can make it."
A spokesperson for the Metropolitan Police said this morning: "On Tuesday 5 January a woman was arrested in Woodberry Grove, N4, for breach of the peace. She remains in custody."