Councillors give temporary permission for new 'Snoozebox' shipping container hotel and offices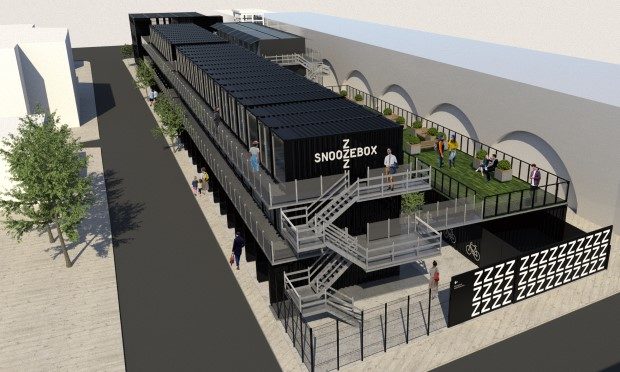 A new hotel and office complex made of shipping containers is to be built in Haggerston following a temporary five-year permission given by councillors.
The new Snoozebox development, a scheme aimed at "millennials, cost conscious business professionals and tourists", will be constructed of prefabricated containers with an outdoor terrace, with each hotel room able to hold up to two adults and a child with an en-suite wet room.
Planning officers for the scheme moved to assuage concerns over the site becoming permanent, after quizzing from planning committee councillor Katie Hanson on a report in which the Hackney Society spoke out in "concern" over the potential for the plan to stifle a permanent development on the land.
Cllr Hanson said: "I'm interested in this principle of temporary use. I'm not opposed to it in any way, but when we've given temporary use permission for other things, at the end of the period of time there's this, 'But how could you let us have this thing temporarily and then take it away again? This tends to be people using unused sites for community gardens and things like that.
"Given that this is not liable for [planning charge to support local development] community infrastructure levy, is there a risk that it just becomes a way of getting round stuff about whether it would be acceptable if it was permanent?
"I'm not opposed to the principle of this, but worried about whether we are setting precedents. It's a fine use of the site in the meantime, but it's what happens in five years and what might happen.
"Let's say in five years' time they came back and said, can we apply to make this a permanent fixture on the site, would we be constrained by considerations about whether shipping containers were acceptable on a permanent basis?"
The Snoozebox is set to be put together on land on Ormsby and Pearson Streets, near Randall Cremer primary school, which developers said had welcomed the proposals due to flytipping problems on the currently vacant land.
It will feature 79 office units and 44 hotel rooms, with 10 per cent of the office units classified as 'affordable' with rates set at 60 per cent of local market rent.
Responding to Cllr Hanson, planning officer Nick Bovaird said: "One of the reasons that you might have seen Boxpark last quite a long time is that there was always going to be a development there, but it kept getting refused, so it was still needed as a temporary use.
"Here we have been quite strong on the condition that requires dismantling at the end of the five year period. It's clear to everybody what they are getting into. We have stated we think the development would not be suitable as a permanent because of its design, a permanent fixture in this location. Everybody is going into this with their eyes open.
"In five years time, if we decide that we have completely changed our minds, then that is one thing, we get another application to consider it, but at the moment this is a five year project, so in five years we are expecting it to come down."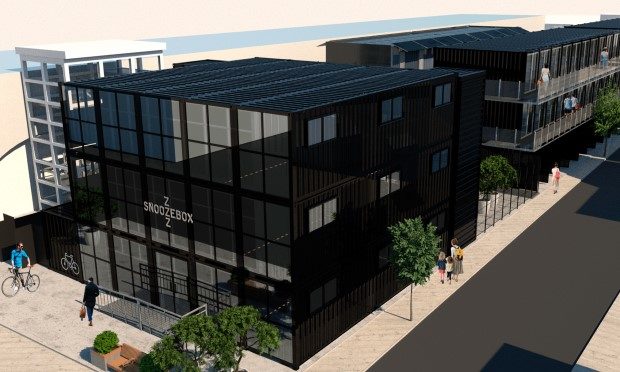 Michael Westwater, of planning consultant Halliday Fraser Munroe said: "We're very pleased that Snoozebox have approached us to design and bring this new Snoozebox brand to Hackney following the success of their other developments and soon to open hotel at Canary Wharf.
"We are pleased that this latest concept which is a mixed use development is going to be brought to the benefit of Hackney.
"This will provide much-needed affordable workspace for the area. We anticipate that this will appeal to a range of start-ups, small businesses and entrepreneurs, and that the development will create in the region of 180 part- and full-time positions once it is fully operational."
"We feel the timing of this development will help this area's economic recovery following the consequences of Covid-19. It will also reinvigorate a derelict site, bringing it back to productive use until a more permanent solution is found by the owners."