'Strike action works': Union celebrates as long-running Leaways School dispute settled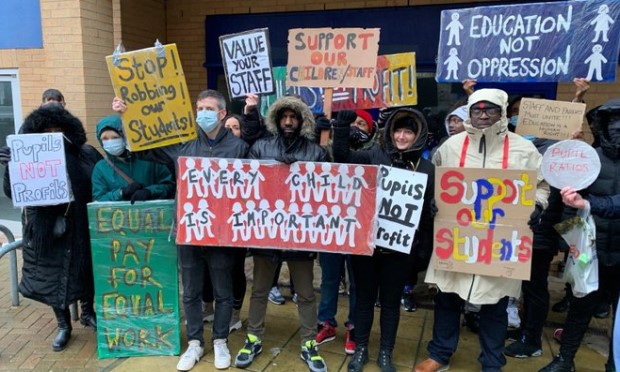 A long-running dispute between staff and management at a Hackney special school has finally been resolved.
Since last year, National Education Union (NEU) members at Leaways School have been demanding the same pay rise of 2.75 per cent received by many teachers in 2020, while complaining of a lack of decent sick pay.
An apparent breakdown in relations between the union and school operators Kedleston Group saw the latest strike action last an unusually long 22 days, marked by disputed allegations of bullying and intimidation of staff.
However, in a joint statement this week, Kedleston and the NEU said: "Kedleston Group and the National Education Union are pleased to announce that the industrial dispute at Leaways School has been resolved. 
"The school has voluntarily agreed to recognise the NEU and Iain Forsyth, an NEU representative for Leaways School, has been reinstated following due process under the school's internal procedures.
"Both Kedleston Group and NEU are committed to working in partnership to build and maintain positive industrial relations at the school."
The sides have reached agreements on the following:
Introduction of pay scales from September 2021 which will mirror the national main and upper pay scales for teachers and the national National Joint Council pay scales for support staff.
Introduction of pay progression policy for teachers to provide career and pay progression.
Amendment of the sick pay policy with effect from September 2021, which will include an increase from seven to 10 days per rolling 12-month period.
The dispute saw Kedleston called out by the union with allegations including 'poor' educational provision despite the school receiving over £50,000 per pupil, a lack of outside recreation space, and temperatures inside the building being so cold that "staff and students frequently wear coats".
The NEU had also pointed to the dismissal of two staff members since the beginning of the dispute including Forsyth, and claim that school leaders suggested that if the strike was not called off after 12 weeks, staff could be dismissed en masse – an allegation strongly denied by Kedleston.
Kedleston said at the time that it was unable to comment on individual disciplinary action, while "absolutely refuting" any claim that staff were either bullied, disciplined, dismissed or threatened with dismissal for being involved in strike action or being part of a union.
Responding to questions back in March on conditions in Leaways, Kedleston said that "a small number" of damaged heaters have now been fixed, and that new windows will be installed to further improve the temperature.
Politicians who had campaigned to see the row settled, including Hackney North MP Diane Abbott, celebrated the resolution this week, while councillors were looking into the implications.
Cllr Margaret Gordon, who sits on the children and young people scrutiny commission, pointed out that a "big contributor" to the overspend in the special educational needs budget at the council went to independent non-maintained schools such as Leaways.
She said the publicity surrounding the school had "shone a light on the cost of some places in private settings […] which compare unfavourably with similar costs in the Garden School".
According to SEND chief Cllr Caroline Woodley, council bosses had been "extremely concerned" at the ongoing dispute at Leaways.
She added: "We believe children have a good opportunity for education there, but we do not believe an educational environment for children is complete if you don't have staff relations and we have been seeking assurances that at the end of this dispute those staff relations and trust will be rebuilt.
"We have received assurances to that end, but we will have to see how things play out."
Councillors continue to call on the Town Hall for more local provision to be made available due to the tens of thousands in costs per child charged by private settings.