Targeted testing announced in Dalston and Shoreditch after Indian variant discovered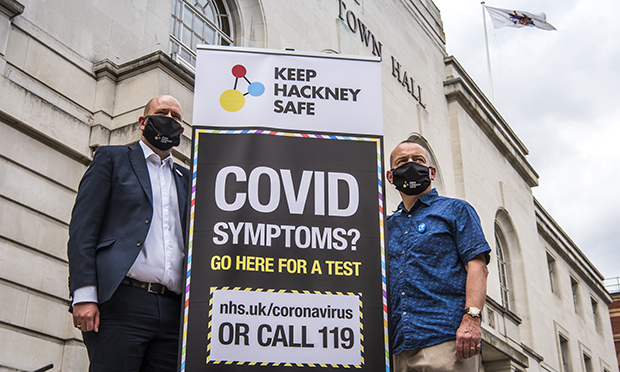 Targeted testing is to take place in parts of Dalston and Shoreditch after Covid variants of concern from India and South Africa were identified in a small number of people.
The news comes three days ahead of the government's lockdown roadmap allowing pubs, restaurants, bars and cafes to serve customers indoors.
Dalston and Shoreditch hospitality businesses are being told they can still resume Covid-safe indoor trading from Monday 17 May.
Hackney's director of public health Dr Sandra Husbands today asked everyone aged 16 and over living in the affected areas to get a Covid-19 PCR test, even if they are symptom-free.
She said: "These tests are processed in a lab where scientists can look at what type of virus it is, and check if it is a variant of concern.
"If you get a positive test result then you and your whole household must stay at home for 10 days; this stops the virus from spreading in the community and helps keep others safe from it."
The council said that all those already identified with the variant strains have self-isolated or are now self-isolating and that robust contact-tracing has taken place.
There is currently no evidence that the variants cause more severe illness, with all of the current Covid-19 vaccines likely to offer good levels of protection against them.
There is however some evidence that these variants can spread more easily than the 'original' version of the virus, similar to the Kent variant which swiftly became the dominant strain in the country.
You can check if you live in one of the areas by using a postcode checker and map online to see if your household or workplace is being asked to test.
The council will be testing in the following postcode areas:
E8 2
E8 3
E8 4
N1 4
N16 8
EC1V 9
EC2A 3
EC2A 4
N1 6
The affected areas are parts of Shoreditch, around Old Street and Great Eastern Street, and parts of Dalston town centre, around Dalston Lane and Kingsland High Street.
Those living or working in any of the affected areas are asked to either go to a test site and ask for a PCR test, or order a PCR test to their home or work address by calling 119, or 18001 119 for those with hearing or speech difficulties, or by visiting nhs.uk/coronavirus.
Home test kits can be dropped off at a local testing site or posted in a priority post box.
Dalston's Bentley Road Car Park test site (N1 4BZ) is open seven a days a week from 8am until 8pm.
Shoreditch will have two test sites in the next few days – Geffrye Community Hall on Falkirk Street (N1 6SD), which opens on Saturday 15 May and will be open seven days a week from 9am till 6pm, and St John the Baptist Church on Pitfield Street (N1 6NP), which will open on Tuesday 18 May, seven days a week from 9am till 3pm.
There is no need to book at the test sites, as residents are asked to simply let staff know if they work or live in an area where a variant of concern has been identified.
You can find other test locations here.
Business owners in the areas will be able to pick up PCR tests for their staff at the test locations, or arrange for test kit delivery to their work, not home, address.
Employers in the affected areas are advised that while current regulations still advise those who can work from home to do so, that if staff are needed on site they can still attend work with safety precautions in palce.
All schools in the areas will remain open, as targeted testing takes place to identify if there are more variants of concern in the specific postcodes listed above.
Secondary schools or colleges located within the postcodes are asked to advise pupils aged 16 or over and their families to take a PCR test, with staff working in both primary and secondary schools in the above areas asked to test for the variants.
Anyone wanting to visit the areas will be able to do so as normal, while being asked to follow national Covid-19 guidelines, including making sure to only sit in your group in a 'rule of six' or two households when visiting a venue.
Those living in adjoining postcodes are asked to get a test by calling 119 or going to nhs.uk/gettested if they are concerned.
Those who have visited the area recently are being told to continue to follow the national guidance and book a PCR test if they develop symptoms, with boxes of rapid tests available for free at local pharmacies.
Those who have tested positive in the last 90 days are advised to test again, as targeted testing looks for variants.
The push in Shoreditch and Dalston will last around two weeks and will be kept under close review, according to the council, with people asked to take one PCR test in the fortnight.
Mayor of Hackney Philip Glanville said: "I live in one of the affected areas and know this will be worrying for some; but this additional testing is a vital further step in our work to keep Hackney safe.
"I will be getting my PCR test and urge others to do the same. It's really important as it will allow us to track variants and prevent further transmission into the community.
"I'd also like to reassure everyone in Hackney that while this targeted testing work is being carried out, these areas – and the businesses within them – remain open and it is safe to visit.
"In addition, hospitality businesses in these areas can resume Covid-safe indoor trading from Monday 17 May, in accordance with the government's roadmap."
You can find out if you live or work in one of these areas at hackney.gov.uk/test 
More information and FAQs can be found here
Latest data and information of the new variants can be found on the government website. 
One in three people with Covid-19 do not show symptoms. By taking this test, you can help stop further spread of these variants in the community; help to keep Hackney safe; and help beat Covid-19. 
If you test positive, have any symptoms, or are contact-traced following contact with someone who has tested positive, you must self-isolate immediately for 10 days. There is support available for you, if you have difficulty self-isolating, including financial support in some circumstances. Go online or call the council on 020 8356 3111 between Monday and Friday, 9am-5pm.
All Hackney residents and workers should still be testing twice-weekly, using rapid, no-symptom lateral flow tests. Collect these for free for home-use from most pharmacies or at a rapid testing centre, or order by calling 119 or going online at nhs.uk/gettested
Current vaccines still work against all strains. Ensure you are protected from Covid-19 by getting your vaccination when you are eligible. If you are over 38, book your vaccine now by calling 119 or going to nhs.uk/coronavirus