Local students 'go above and beyond' to bolster their college's Covid testing scheme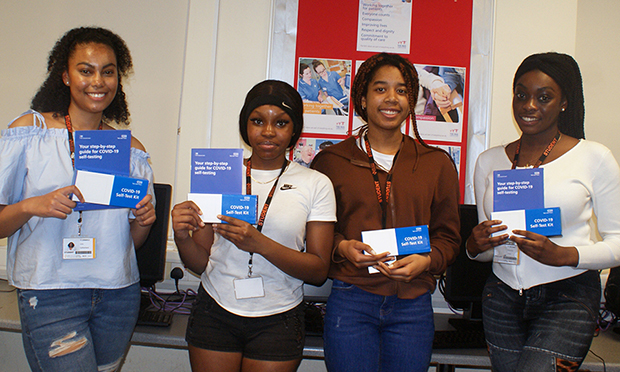 For students across the country, regular Covid tests have been a part of life since schools and colleges reopened – an extra bit of kit to remember that allows them to continue their studies safely and in person.
But for a group of health and social care students at New City College, the new regime has provided an unexpected opportunity to quite literally put their skills to the test in the face of a global pandemic.
The pupils, all aged 16 or over, offered to help the college deliver the mammoth task of checking thousands of students for the virus upon reopening.
They got stuck in as sports halls, theatres and common rooms were transformed into makeshift testing centres, and provided a welcome hand in a huge logistical operation that saw 10,000 tests carried out across eight campuses in the first few days back.
The volunteers have since been teaching their peers how to self-administer the lateral flow tests provided by the college, which is encouraging students to check themselves twice a week.
One of the volunteers said: "We enjoyed it and it was a great opportunity for us to get some experience in a health and care role.
"We had to make sure everything was sanitised. We helped anyone who was having difficulty with the instructions and we also tried to make the students who were nervous feel more comfortable about it."
A spokesperson for New City College said of the students: "The way they approached this volunteering opportunity has shown that they will be valuable employees in the health and care sector in the future.
"All the staff involved in the testing process commented on their attitude and ability to just get on with the job. They really are a credit to themselves and the college."