Mayor's Civic Awards return from year's break with call for nominations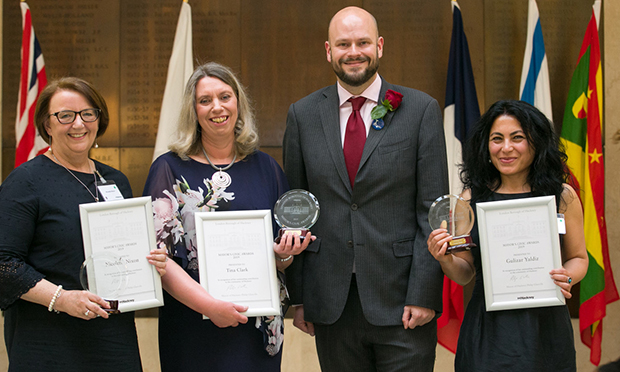 Nominations for the sixth annual Mayor's Civic Awards, which honour the borough's unsung community heroes, are now open.
Last year's event was scrapped because of the pandemic, and this time around the focus will be on people who have exemplified Hackney's spirit over the past 12 months, on top of those whose efforts over the years are worthy of more recognition.
The awards, which will eventually be announced online, have been expanded to make up for the 2020 cancellation, with three individuals and three organisations to receive an accolade.
If you know an NHS hero, carer, teacher, volunteer, charity, business, or anyone else who has made a positive difference to the borough, you can put their name forward.
Nominees can be of any age or background – though permission from a parent or guardian is required for anyone under the age of 18.
Mayor of Hackney Philip Glanville said: "We would not have gotten through this past year if it wasn't for the selfless work of our key workers, volunteers and other residents who've been quietly making a positive difference to the lives of Hackney people under incredibly challenging circumstances. 
"These unsung heroes embody Hackney's spirit, and we want to ensure that their work does not go unnoticed."
He added: "Recognising this set of awards will cover two years and the need to celebrate the community response to coronavirus, we're expanding the awards this year to ensure we can consider all the different ways that organisations and individuals have made a difference.
"I would strongly encourage everyone to nominate either an organisation or individual who have those who have always given back to their communities or pandemic hero, and to help us celebrate the best of our borough."
Nominations close on Thursday 15 April, and the winners, who will be selected by a panel of judges from across Hackney, will be announced at the council's Annual General Meeting on 26 May 
You can nominate your unsung heroes online here, but if you require a paper application form with a freepost envelope, contact emma.wynne@hackney.gov.uk or call 020 8356 8444